New In
Meet the Models: Studio West
Take a peek behind the scenes and learn more about the models featured in our new photo collection! Social media stars Allegra Shaw, Katie Morton, Blake Healey, and Michelle Infusino met up in the Californian desert to shoot the iconic photo art that is Studio West.
When it comes to bucket list adventures, not many beat the idea of cruising down route 66 in an old vintage car with your best friends. So our creative team travelled to the United States West Coast to capture just that, the freedom of being on the road and living life on your own terms. Social media stars Allegra Shaw, Katie Morton, Blake Healey and Michelle Infusino act as the real-life girl gang bringing the story to life.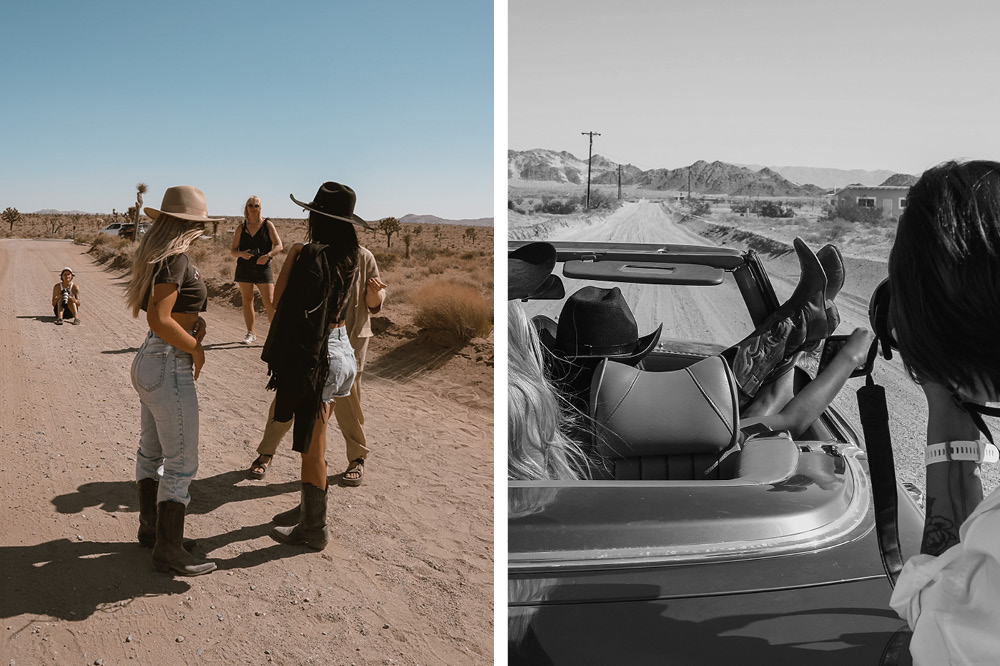 "The landscape is absolutely stunning, and it's so hot; I'm from Canada, and it's cold there most of the year, so this is great," says Allegra Shaw, YouTuber and co-owner of the fashion brand Uncle Studios, adding that" lots of water, lots of sunscreen, a hat and making sure you eat" are key when working in the desert. Shooting in the blazing sun and 100-degree weather proved challenging; the team's cameras and phones shut down due to the heat, and taking breaks in the car (thank you, air conditioning!) was much needed.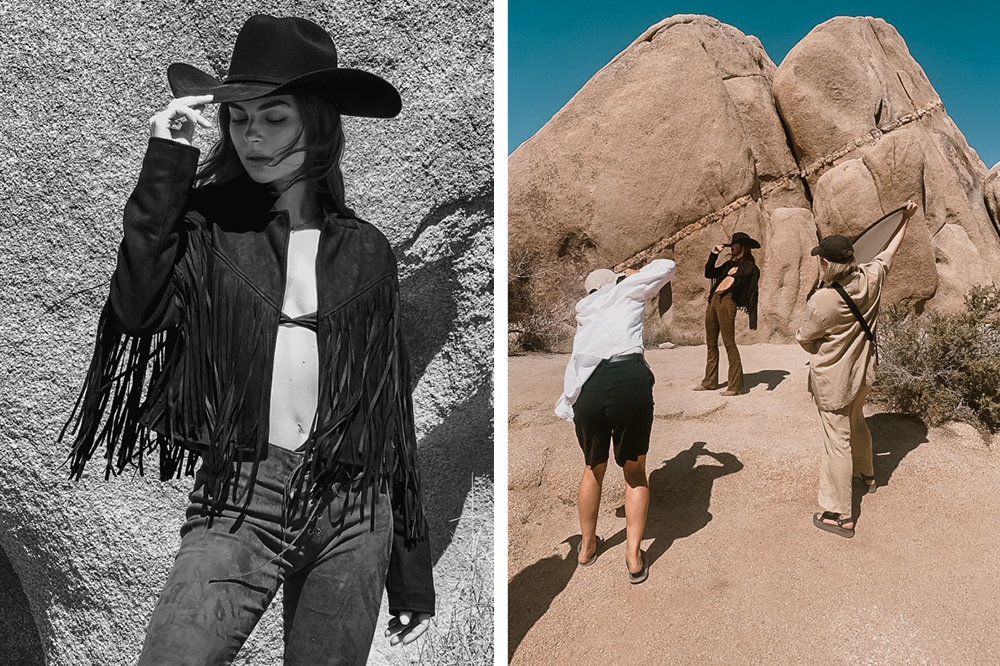 Influencer and reality tv-star Katie Morton (known from The Bachelor and later the winner of Bachelor in Paradise) found another testing aspect of shooting in the scorching sun. "I'm sure everyone said the heat, but I also would say avoiding weird tan lines from wearing different outfits because the sun is so directly on you."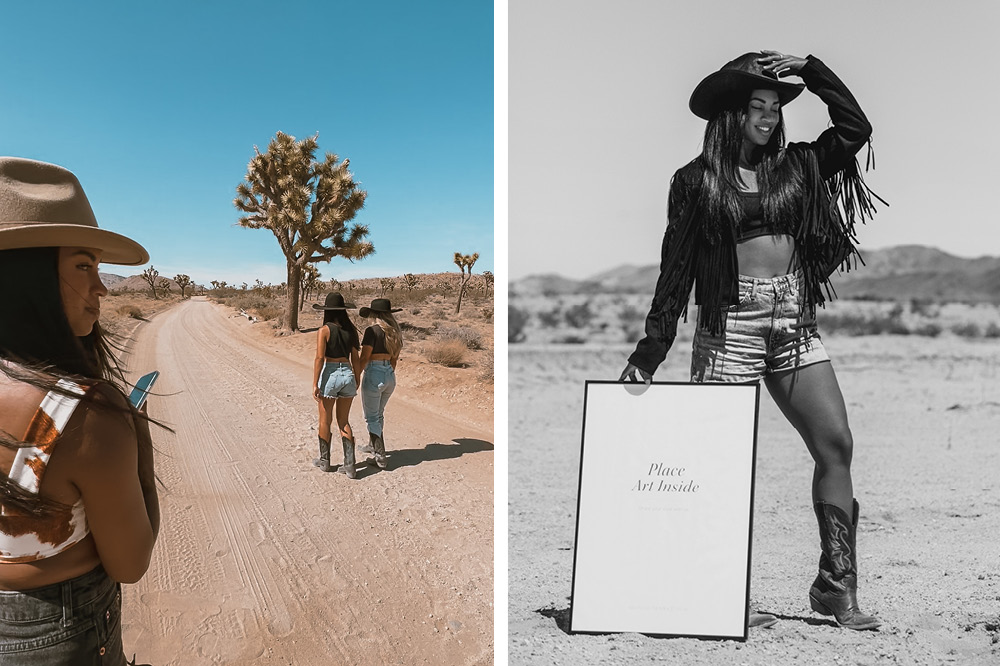 Western fashion was a big piece of the puzzle when putting together the feel of this collection; cowboy boots and hats mixed with classic denim pieces create the perfect desert chic vibe. "It absolutely has to be a tie between a cowboy hat and cowboy boots," says influencer Blake Healey when asked to choose her favourite fashion look from the shoot. Blake describes the collection as moody and edgy. "My favourite memory is the very last shot walking with Michelle and Katie down the dirt road, knowing we just put our all into the shoot," she says.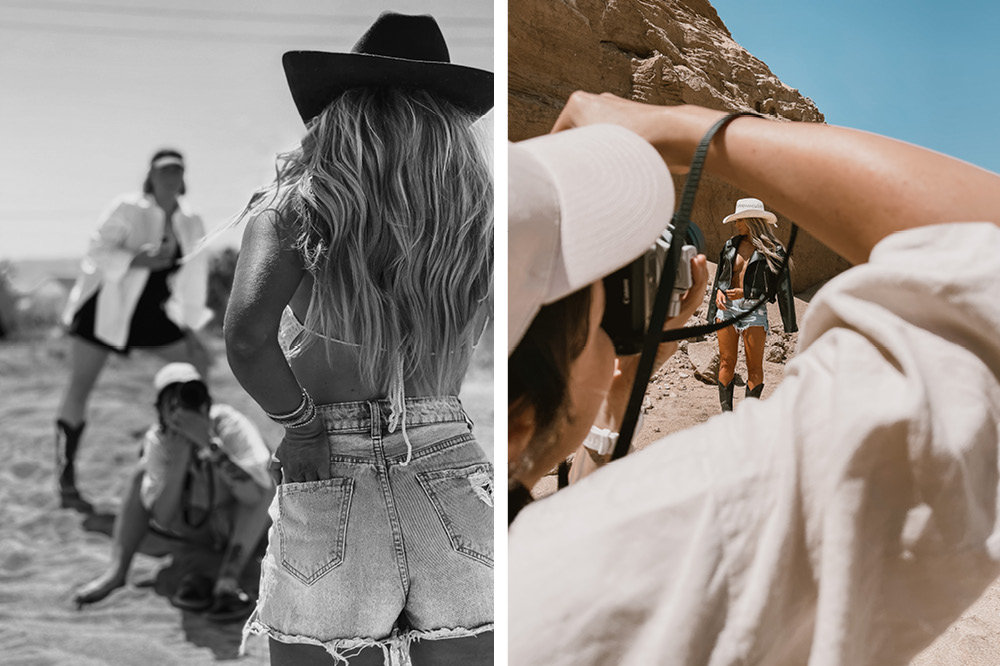 Explore the iconic photo art collection celebrating the beauty of friendships, self-expression, and western fashion.