How to
It's all in the details - create your unique gallery wall at Desenio
Our new tool allows you to preview how your posters and frames will look on your wall. You can easily save your designed collages, share with friends, or shop your entire compilation of posters and frames.
We are happy to finally present "Design your gallery wall" - a tool that helps you build your very own gallery wall to create the look you want in your home. Choose from a variety of wall colors, layouts, and frames to design a gallery wall to your specifications.
"Design your gallery wall" can easily be found here.
Step 1: Get started on your gallery wall by choosing a room photo. When you click on a room photo, you can easily choose the wall color your desire.
Step 2: The second step is choosing the layout of your gallery wall. Do you want two posters in the same size hung next to each other, a collage of several prints, or four symmetrical posters mounted in a rectangular shape? We have many different layouts to choose from!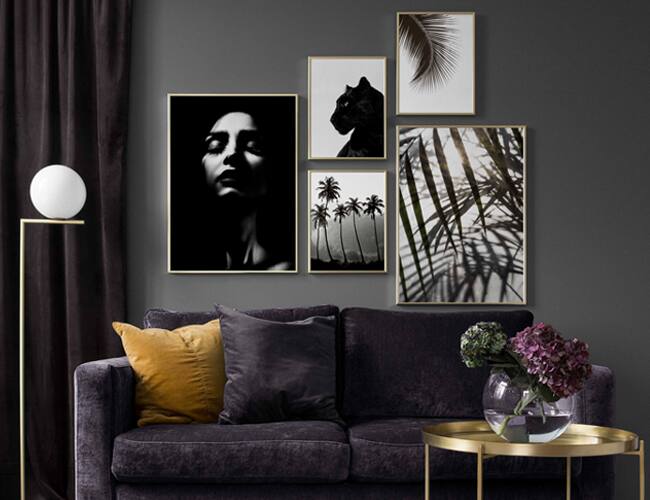 Step 3: In this step, you'll choose your motifs. Which style works in your home? One tip is to stick with a common theme in your posters. For example, are you looking to incorporate black & white prints, only photo art, or simply motifs in the same color scheme? Use our filter to find the posters you want, faster. Click on one of the boxes on the layout of the wall where you choose to hang your print, and then pick one of our poster motifs.
Psst! Having a hard time deciding between all the posters you like? Use our Love button! Press the heart below the posters you are interested in, and these will then be saved under "My Favorites", which can be found in the menu when you click "All Products" on the upper right. You can then easily access your saved favorites.
Step 4: For a finished gallery wall, use this step to effortlessly determine how to pair the perfect frames with your posters. Frame every print with identical frames for a classic look, or choose to mix it up with a combination of frames to create a more lively impression. We carry metal frames in gold, silver, and copper, as well as black wood frames and much more.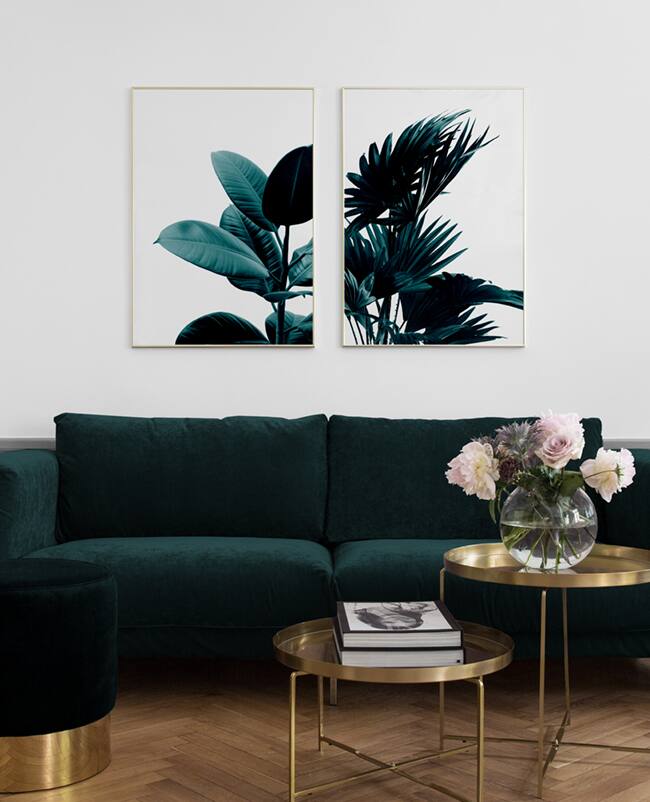 Step 5: Looks great! Press Finish and then 'Add to Cart', where you can easily buy your posters and frames. You can also save your gallery walls, which can then be found by clicking on 'Saved gallery wall'. One more thing! Don't forget to press the Share button so that both we and your friends can get a look at your gorgeous gallery wall.