How to
TRANSFORM YOUR BOOKSHELF
A bookshelf has the power to either make or break a room. It should be treated as a display cabinet that, when done right, can form a beautiful feature in which you can express your personal style. When done wrong, it can leave a room feeling cluttered and dull.
Refreshing your shelves is an easy but effective way to spruce up your interiors. Just follow our styling tips below!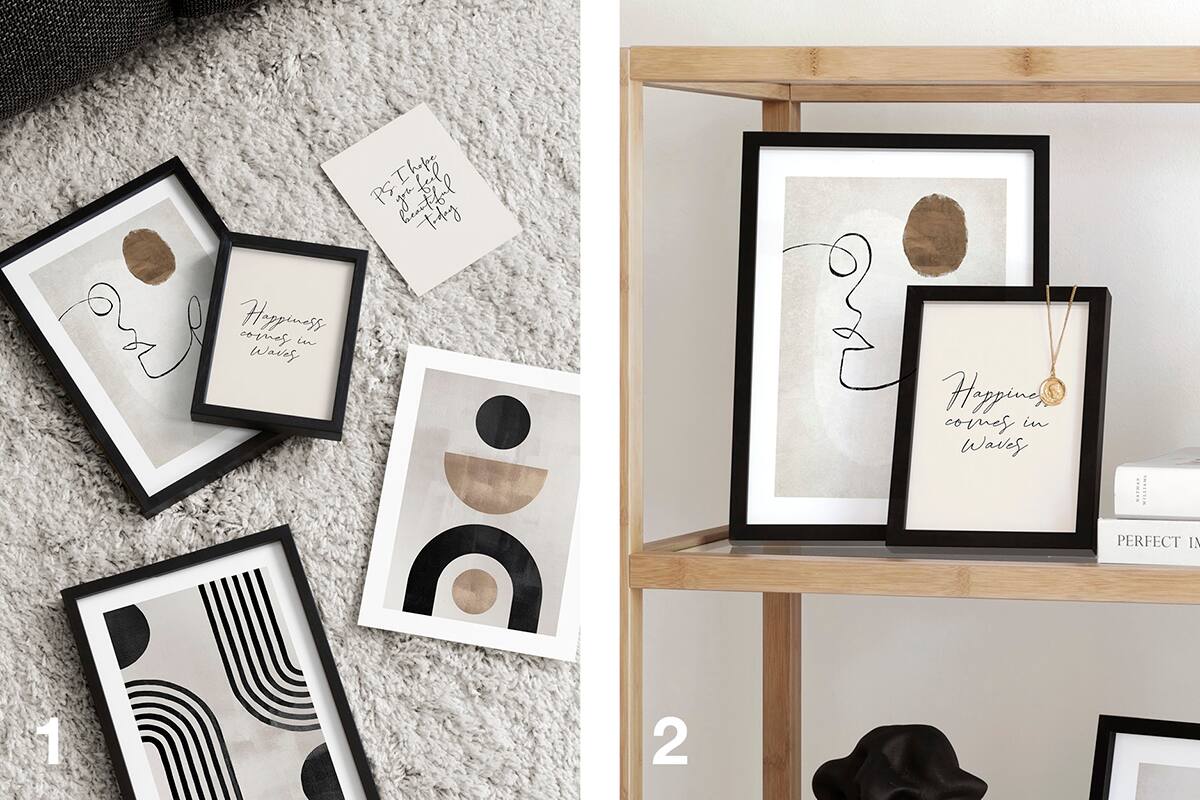 STEP 1: DECIDE ON YOUR PRINT STYLES
The style of prints you choose all depends on your taste - there are no rules! But if in doubt, go with neutrally toned graphical art prints, abstract art, and line art - you can always add pops of color with home decor later.
STEP 2: CHOOSE FRAMED PRINTS IN DIFFERENT SIZES
Choosing prints in a range of different sizes will mean that you can arrange them creatively. Most spacious shelving options will allow for framed prints sized 40x50cm, but make sure to measure the space that you're working with. Mix in some sized 30x40cm and 21x30cm for a varied look.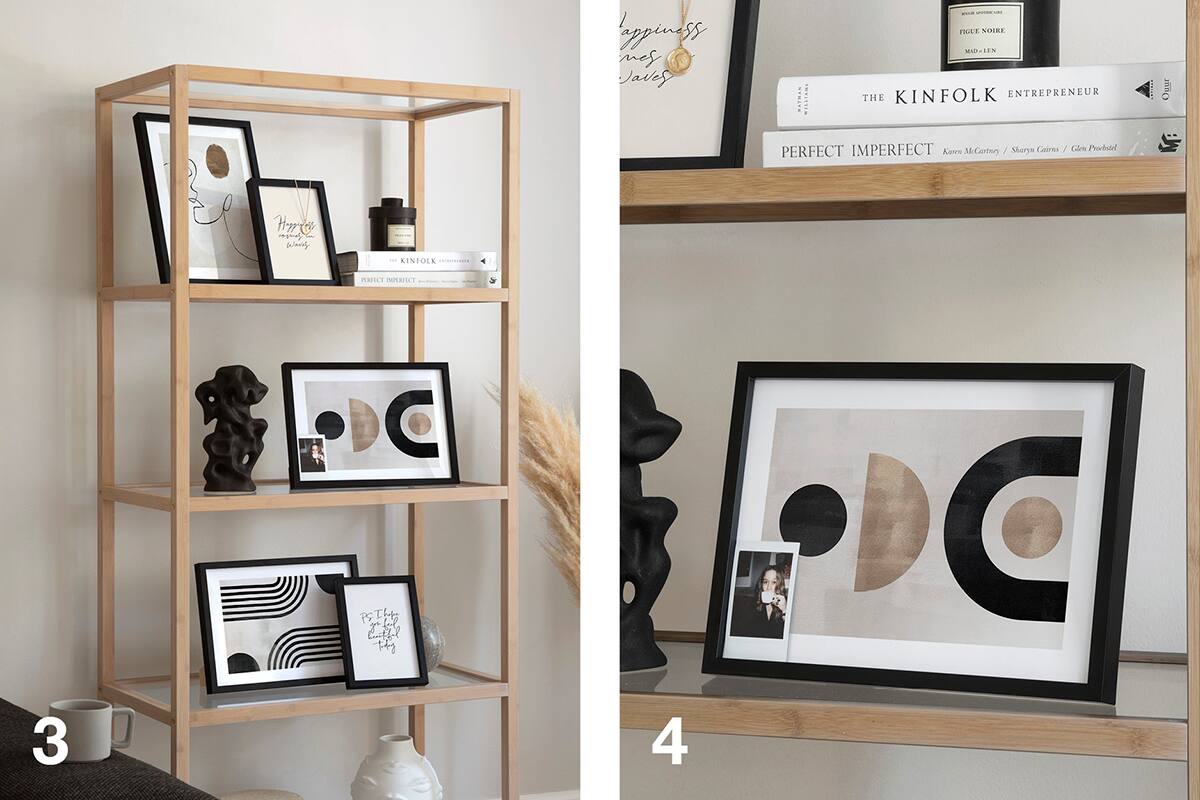 STEP 3: ARRANGE FRAMES IN LAYERS
Framed prints form the backdrop of any stylish display shelving. Take different-sized prints and overlap them slightly, leaning them against the back of the shelf. This will add intrigue and visual contrast, meaning that the bookshelf will be attention-grabbing in only the best way.
STEP 4: ADD A PERSONAL TOUCH WITH HOME DECOR
Add a personal touch to the bookshelf by adding sentimental objects and family photos. Add anything that brings you joy - you could feature polaroid prints, your most beautiful books, candles, or treasured ornaments.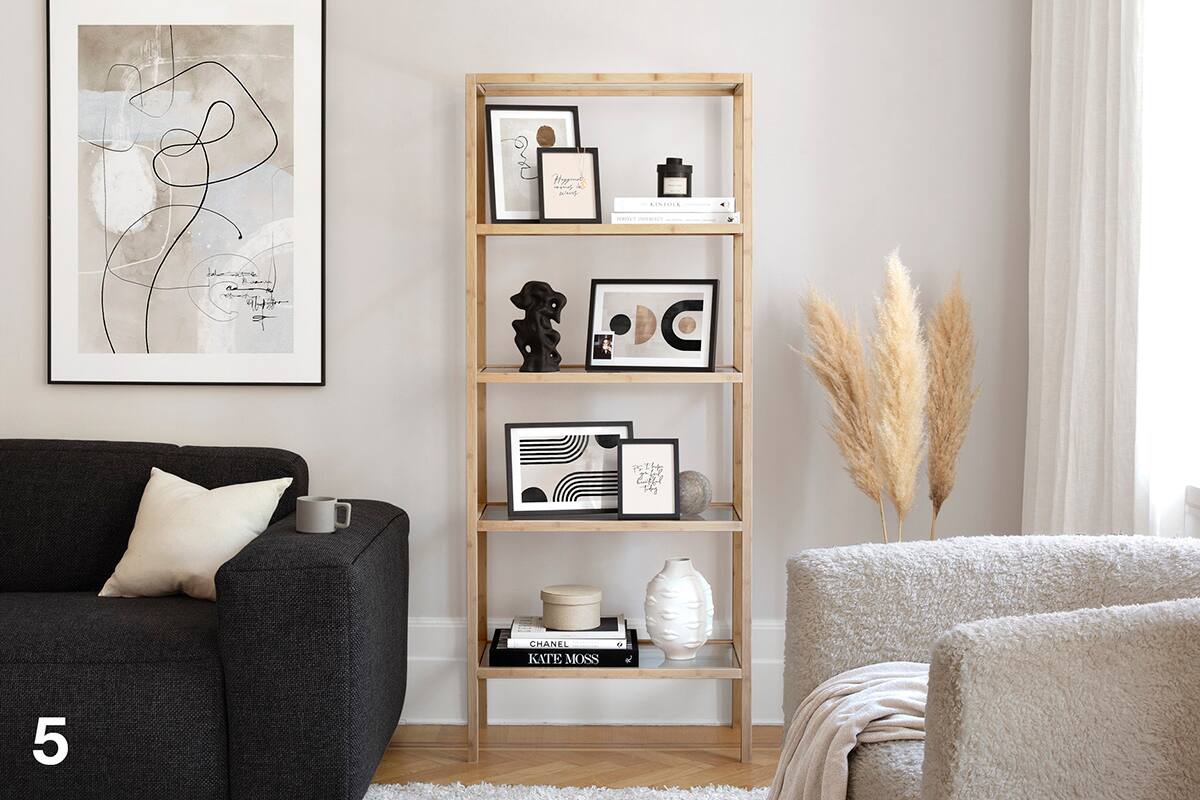 STEP 5: TAKE A STEP BACK AND MAKE FINAL TWEAKS
It's now time to step back and admire your creation! Consider the overall balance of the look, both in terms of color and arrangement of objects. Ensure that the distribution of objects feels balanced but not symmetrical, adjusting the placement of items as appropriate. Your bookshelf transformation is now complete!