How to
MAKE YOUR DORM ROOM FEEL LIKE HOME
It's time to go back to school! Whether you're starting college this year or you're already a senior, the new school year is a time to reinvent yourself - and your space.
Your dorm room is probably your first chance to decorate a space according to your rules only. While you may not be able to paint the walls or drill in nails, there are still so many ways to make your dorm room feel like… you!
Not sure where to start? We've got you covered - here are some tips for styling your dorm room according to your personality.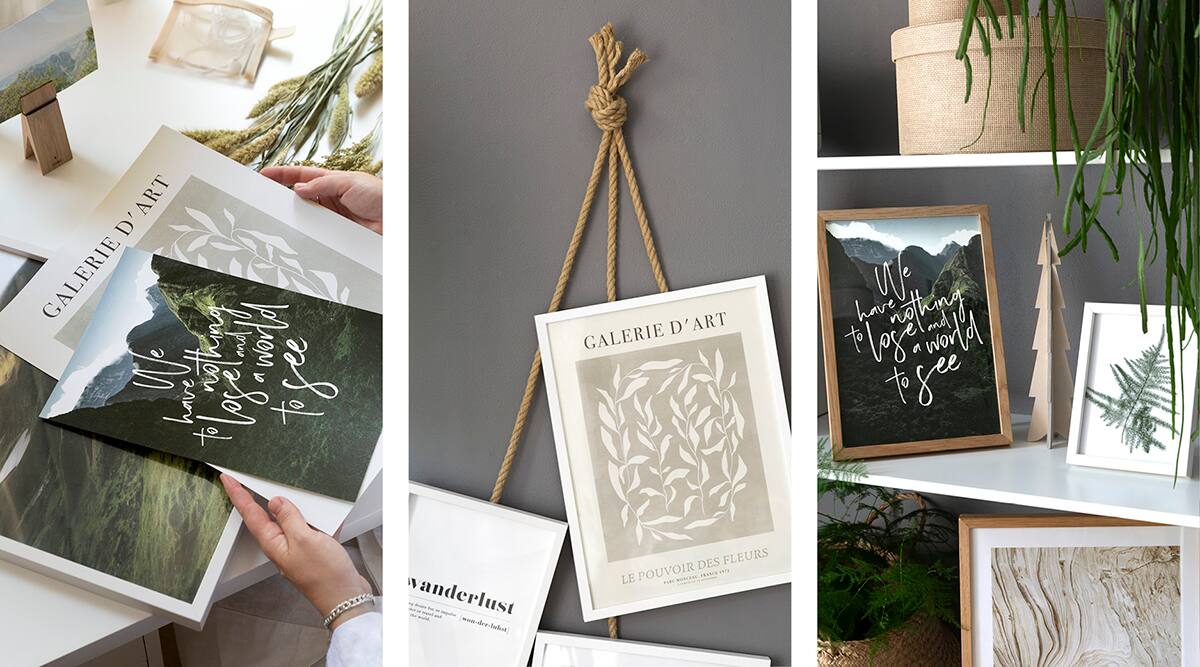 THE NATURE LOVER
If you'd prefer to be hiking in the mountains than walking on city streets, bring nature to you! Decorating with natural styles will help your dorm feel bigger, fresher, and will improve your focus.
Step 1: Select prints in green and beige tones
Fresh forest greens and calming beiges will take you to a world far from exams and deadlines. Mix up nature prints and neutrally-toned photography for a calming and balanced finish.
Step 2: Use natural hanging solutions
Using natural material to hang your prints will create a more rustic, natural look. One way that you can do this is by hanging framed prints with string. If you cannot use nails, hang the prints from the edge of a shelf or on a hook.
Step 3: Accessorize with eco-friendly decor
Complete your look with natural accessories: mixing up organic materials will help you to create a tactile and cozy feeling. The more houseplants, the better! Not only do houseplants help to purify the air, but they're also known to improve your mood and general sense of wellbeing.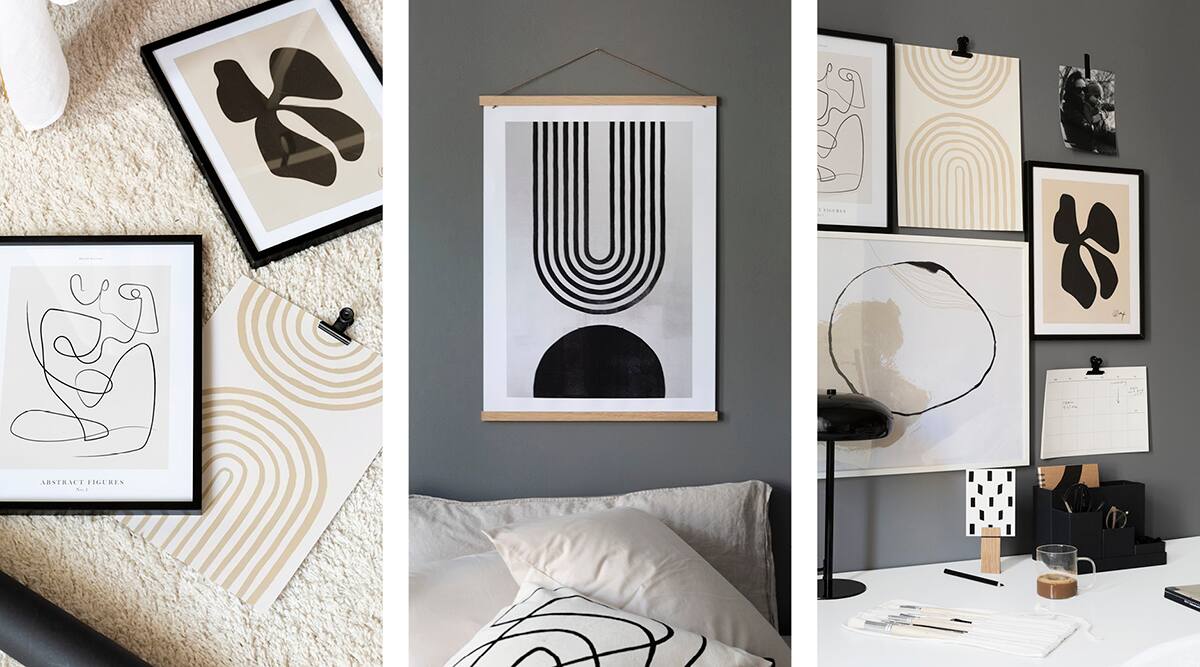 THE CREATIVE MIND
If you're a naturally creative mind, you'll want to add your own personal touch to your dorm room. Follow these tips to design a unique dorm room that will keep your creative juices flowing.
Step 1: Select graphical art prints
Choosing graphical art in cream and beige tones is a great way to convey effortless style and your creative side. Mix up the art prints with personal photos to give the look a uniquely personal touch.
Step 2: Get creative with framing techniques
You can get creative with hanging the prints, not only selecting them! Create a print collage by using a variety of frames, poster hangers, or even clipboards to display your art choices. Experiment with washi tape to make the finished result even more artsy.
Step 3: Organize your creativity
All that creativity needs some structure, too! Find ways to organize your art supplies so that you can easily start creating magic when you have a moment of inspiration.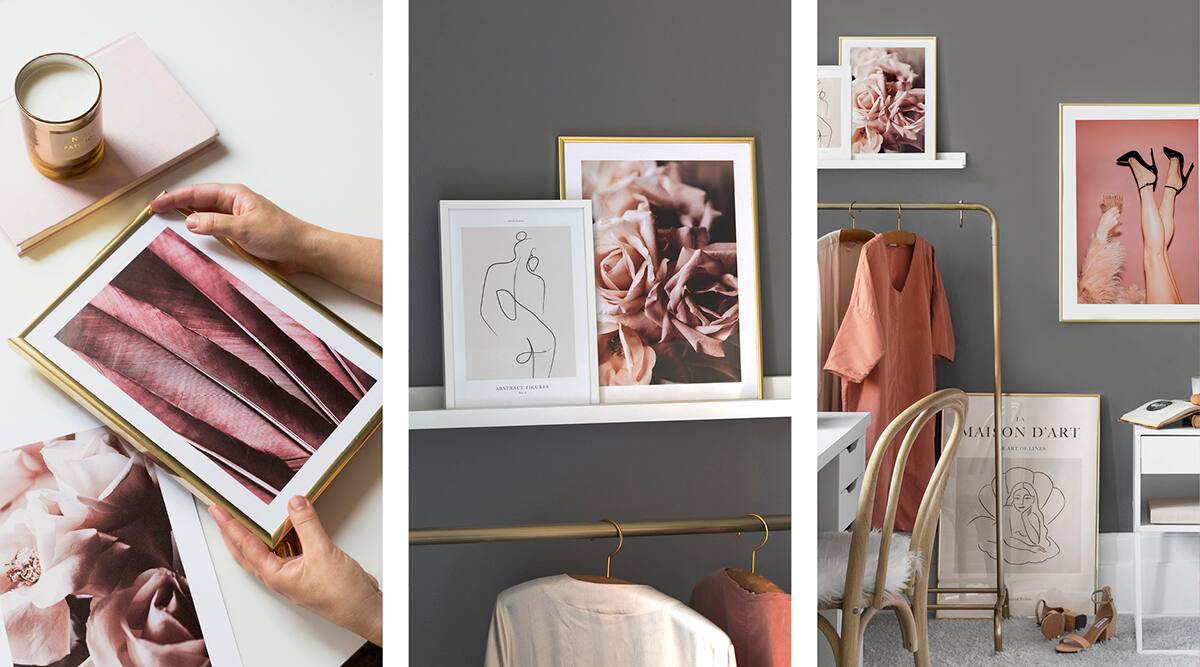 THE SOCIAL BUTTERFLY
Are you the social butterfly who loves to host pre-parties in your dorm? Then you'll probably want to design your room so that it feels glamorous and chic. Follow these tips to get the luxe look.
Step 1: Select floral, feminine, and edgy prints
Juxtapose pretty florals with more edgy prints to achieve a luxurious and feminine feel. It's up to you how you mix and match the prints - keep it focused on pastel pinks, or add prints with darker undertones if that's more your style.
Step 2: Lean prints against the wall
Prints can be used to brighten up any corner of your space. Layer framed prints on a shelf, or feature an extra-large print and lean it against your wall. This way, you can be flexible and rearrange them whenever you feel like a change!
Step 3: Show off your style
Put your favorite fashion items on display and match them with your prints! A great way to do this is to use a freestanding clothing rail to feature only your most fabulous pieces.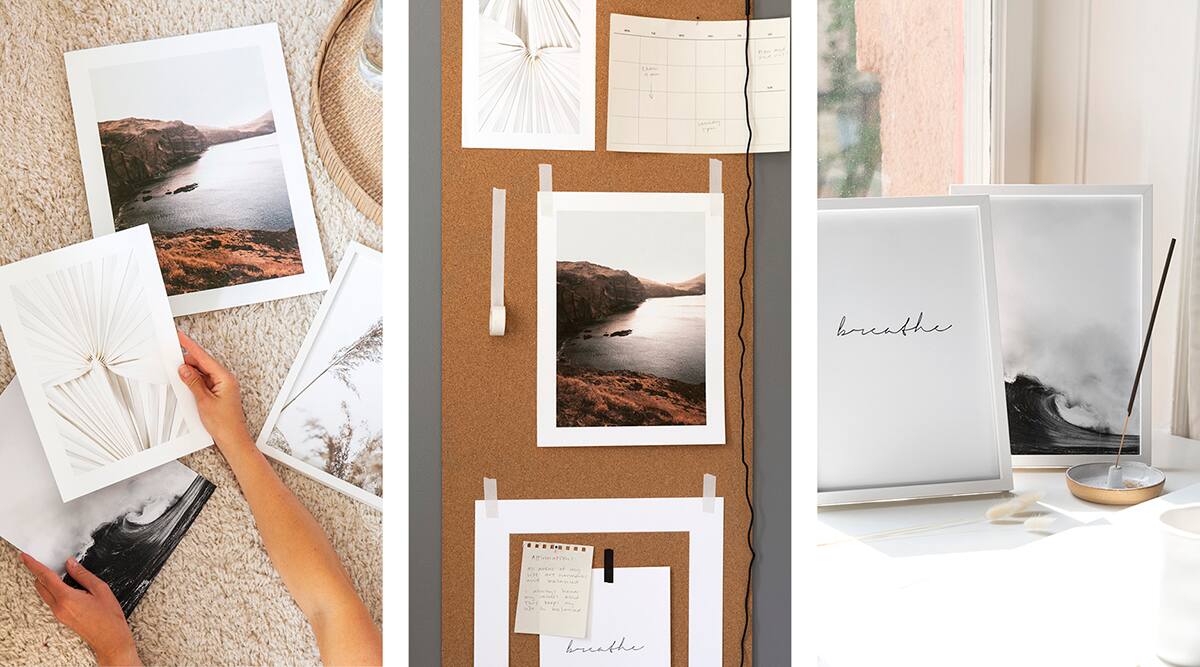 THE SELF-CARE QUEEN
Valuing your mental and physical health means creating a space that helps you to manifest your mindset. A decluttered room with positive vibes will put you in the best possible frame of mind.
Step 1: Select calming prints
Make sure that you choose prints that help put you in a good headspace. Prints in light colors will help you to feel calm, even during a high-pressure exam period.
Step 2: Style them on a mood board
Featuring prints on a corkboard using washi tape is a great way to add an aesthetic touch to your university schedule and other memos. You could also hang them using clips for a clean finish if you want to spotlight larger-sized prints.
Step 3: Align your room with your lifestyle
Your room should serve your lifestyle! So design it accordingly - dedicate a corner for your morning meditation or yoga practice, and make sure you have the visual aids you need to feel calm and inspired throughout your day.