INTERVIEW
An interview with Ana Johnson
Introducing our official German Ambassador for 2021, Ana Johnson!
Ana is known for her amazing interior style and fun DIY projects. She worked with the Desenio Design Studio to create her own capsule collection of prints that represents her style. Get to know more about Ana and her interior design projects!
We love to see your DIY projects! Do you have any fun projects planned with Desenio prints?
I've been wanting to decorate a whole wall with prints since forever! I'd love to make a huge collage across a wall using Desenio prints. Maybe this year I will finally find the time and right spot in our house!
How would you describe your interior style? Would you say it is similar to your fashion style?
Yes, I can definitely see some similarities between my fashion style and my interior style. At home, I love natural, easygoing, and light colors. If you look in my wardrobe at my outfits, you'll also find those same color palettes.
Have you ever had a decorating mishap?
YES! It was one of the funniest moments ever! One day, I decided to try to make twisted candles - the idea is that you take straight candles, warm up the wax and twist them into a fun form. Very quickly I noticed that I needed candles with a specific type of wax. I was determined to keep trying, but it turned into a huge catastrophe that left me in fits of laughter when I saw the result - you can still find this in my Instagram Highlights!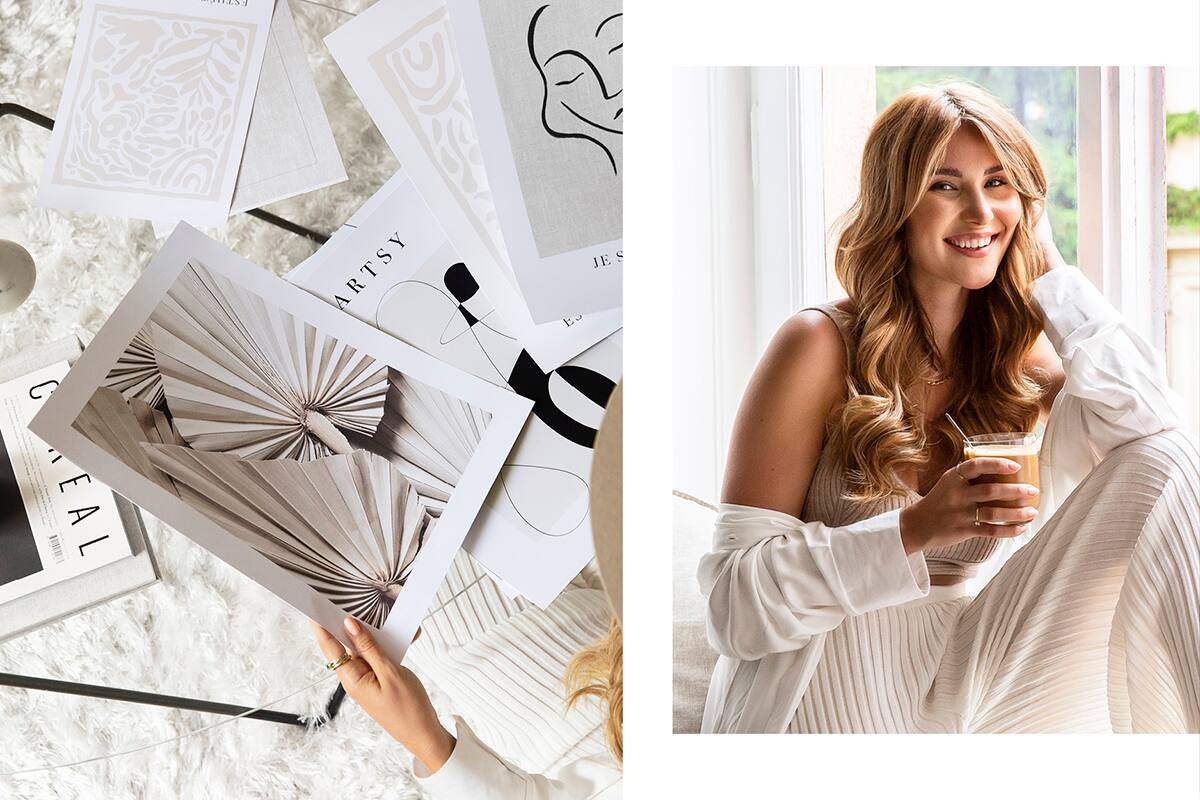 What is the hardest part of decorating your home?
I'd say being able to visualize the overall concept in my head is the most difficult part. When we built our house last year, we were standing on a huge building site and had to decide how our bathrooms and kitchen should be arranged. It's really hard to plan when you can't visualize the end result!
What does it mean for you to be at home?
For me, being at home means to mellow down, feel at ease, get creative, and enjoy time with the people I love most.
Have the events of the last year changed your relationship with your home in any way?
I have always loved our home, and I've never felt more at ease anywhere else than here. This past year has meant that I've spent more time at home than ever before. I'm more thankful than ever before for having such a beautiful and cozy home. The last year has shown us all that we can't take anything for granted, and that we need to appreciate everything we have!
How do you make your home your haven?
I love organization, structure, and coziness! If everything is tidy and organized, I can really relax and feel at peace.
Where do you get inspiration for the decoration of your home?
I actually got most of my inspiration from hotels during my travels. Whenever I saw things I was inspired by in other countries, I took pictures of them and saved them in a folder. I love to create mood boards to keep all of my inspiration in one place.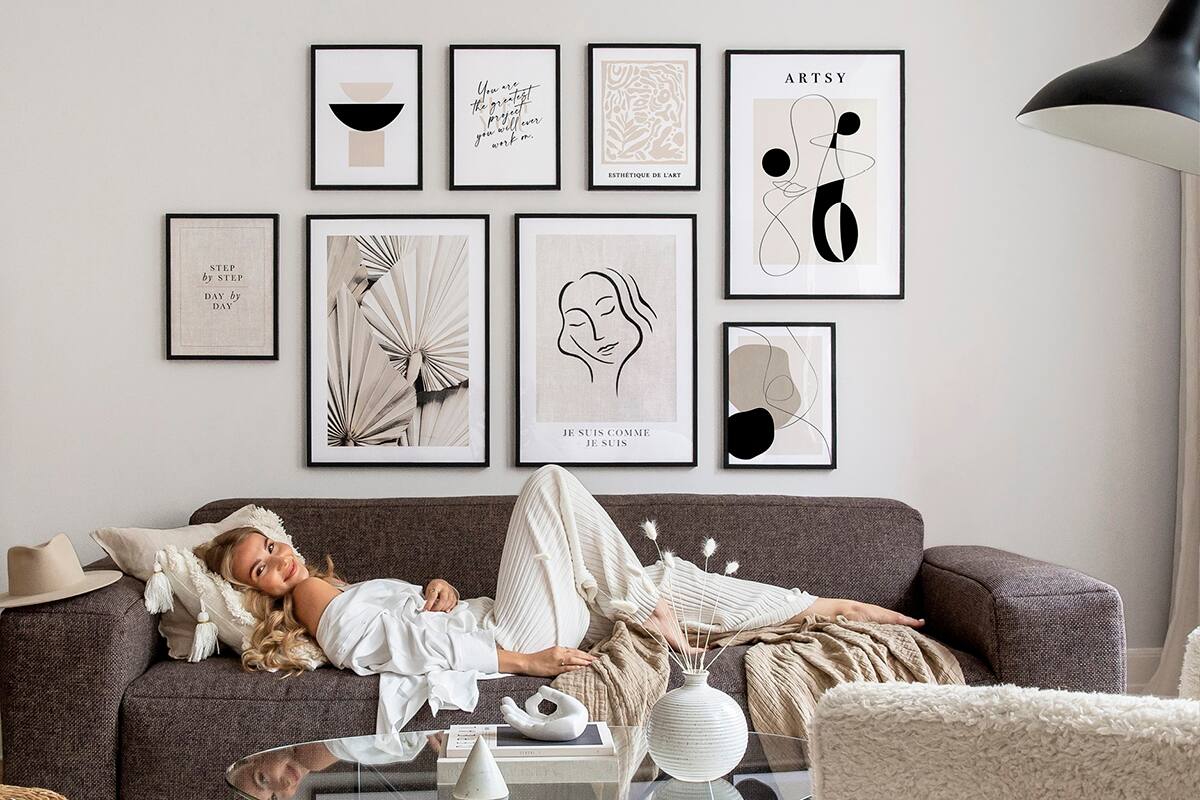 If you could choose any decoration style of a famous person or a TV or movie character, who would you choose?
I love the house and the general style of Syd and Shea McGee - I even binge-watched their interior show while we were building our house!
What is your trend color for summer 2021, and how would you incorporate it into your home?
Right now, I am loving light blue and lilac! For me, these tones represent freedom and effortlessness. On Instagram, I like to go a little crazy with colors but at home, I like to keep it clean and simple and like to get some splashes of color into the house through flowers, for example.
How and how often do you change up your home - do you decorate seasonally?
I usually change up my home four times a year, for every season - I just love it! This way, I can get into the vibe of the new season, and I'm always amazed at how much you can actually change with small decorations, such as prints, for example.
You designed your first very own poster collection together with Desenio! What can we expect?
After the crazy last few months, I wanted to design a calm and balanced collection with Desenio, which conveys coziness and peace. I wanted the collection to be modern, clean, and most importantly timeless. It can make your home more beautiful all year round.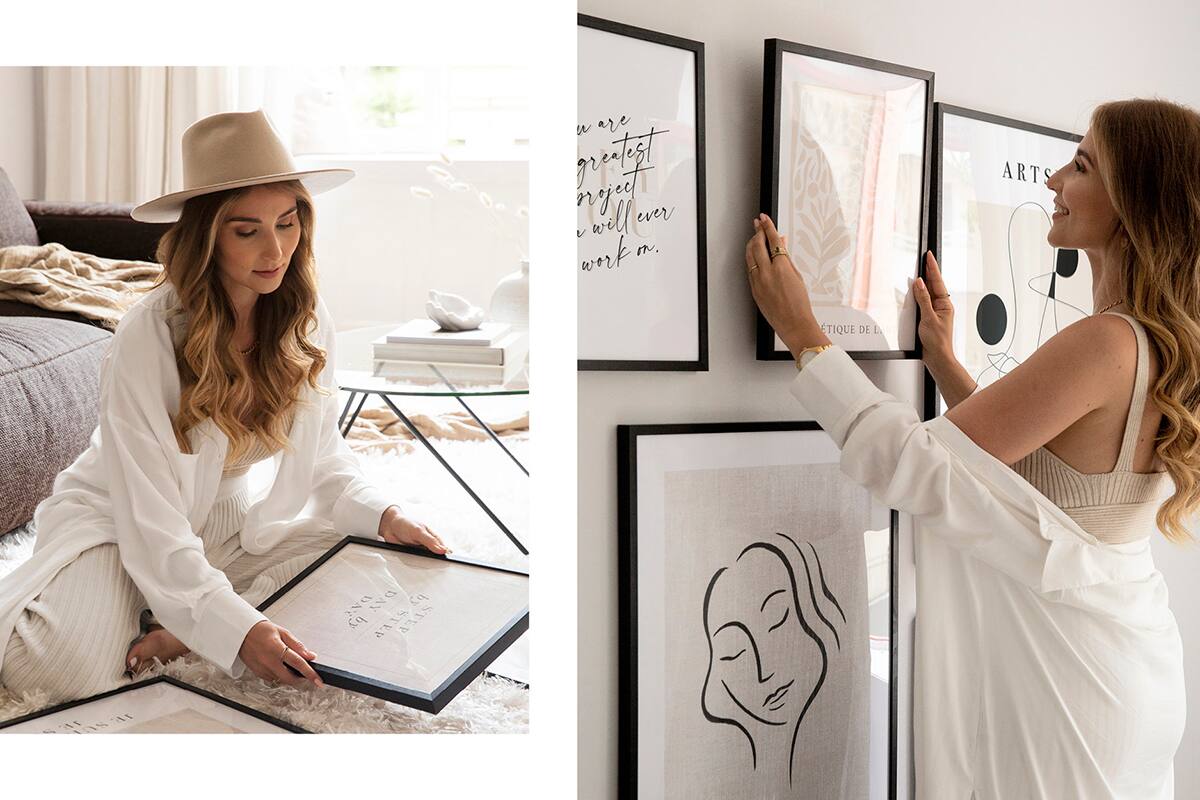 Why did you choose to collaborate with Desenio?
Desenio is one of my absolute favorite collaboration partners! I love interior and decoration, so of course, I love Desenio prints and frames. I have been a very satisfied customer privately for several years now.
The selection is huge, and the designs, colors, and trend directions are always appealing and stylish - Desenio just totally meets my taste! Whenever I'm looking to change things up, I browse through Desenio's website and find a way to freshen up my home.
What was most important to you when designing your collection?
I wanted to ensure that the collection incorporated all my ideas, creative input, and favorite colors - that it was totally me. Timelessness was also important: I think that my collection can be perfect for any season, and will still be beautiful in years to come.
What did the work with the Desenio Design Studio look like?
This was my favorite part in the process! We had several video calls during the process to discuss the collection and collaborate together.
How will you style the prints of your collection in your home?
I have already chosen the wall where I want to hang my collection! When you come into our living space, you will immediately see my Desenio prints! I want to create a gallery wall of all the prints and highlight them with black frames.