INTERVIEW
An interview with Janni Olsson Delér
Introducing our official Swedish Ambassador for 2021, Janni Olsson Delér!
Janni is from Stockholm and now lives in Monaco with her young family. She has worked with the Desenio Design Studio to create her own capsule collection of prints that represents her beachy and relaxed style. We sat down with Janni so that you can get to know more about her interior style!
You always have amazing backdrops in your Instagram photos - do you have any tips for creating an Instagram backdrop at home?
Probably the most popular backdrop in our home is our Banana Palm tree in our garden! Whenever my friends come to visit, they always take photos there - it's a great photo wall! When it comes to indoor shots, I like to keep it clean but maybe add a bohemian touch. For example, I like a white background with some wood details, so that's what I try to go for.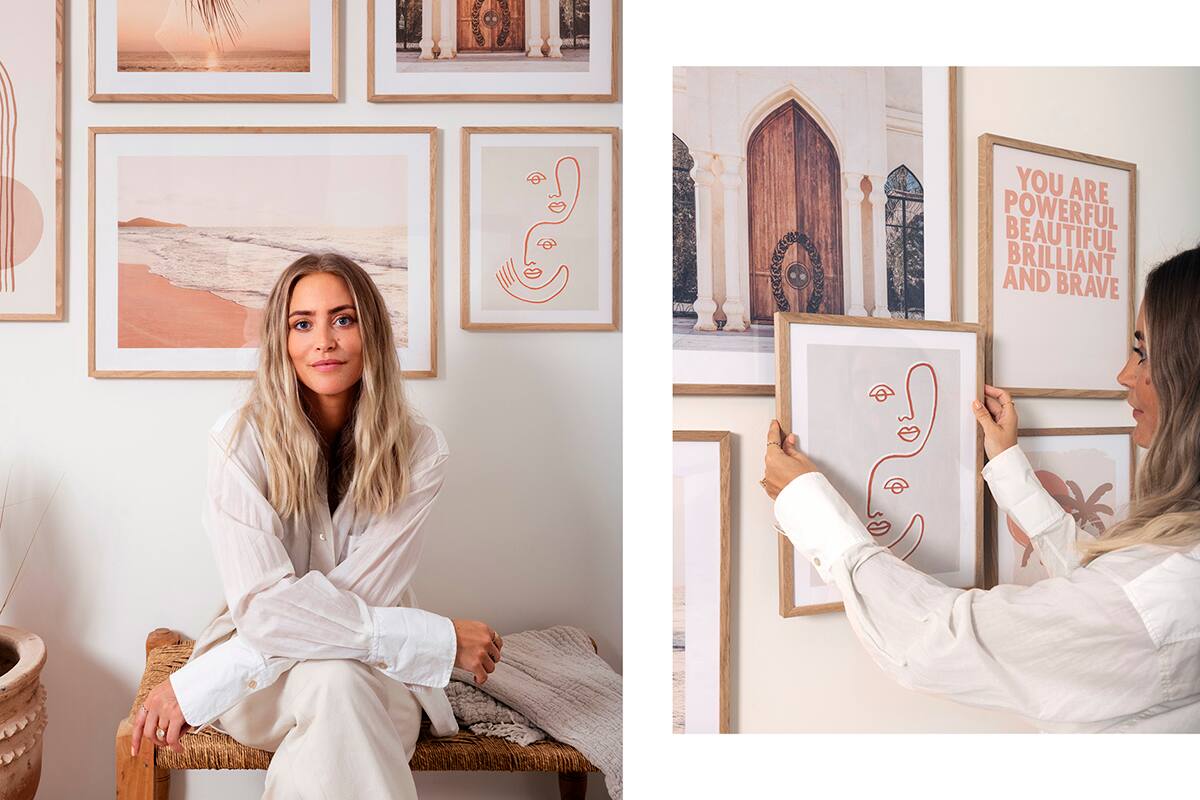 You have your main residence in Monaco and a holiday home in Spain - how do the interior styles compare to each other?
I think that the interior styles in each home reflect the place they're in. Our house in Spain is near the ocean, so our interior style is bohemian with beachy vibes. Our place in Monaco is a similar style but a bit more urban, sleek, and modern - just like Monaco!
Has your interior style changed after having children?
Our style has not really changed at all! Before I was a parent, I thought I'd have to ditch my white couch and change my interiors. But I love my style and didn't want to change it! Maybe our couch is not as white anymore, but we don't stress about it, and we love that we can still have a beautiful home. We have removed potential hazards, since our 1.5-year-old is running around now! But we prefer to teach him how to run around safely rather than change our entire home.
Do you have children's rooms planned?
We're going to move to a bigger apartment in Monaco where our kids will have their own rooms. The first room we'll decorate will be our son's bedroom, which will be so fun! We already have some really fun Desenio kids prints that he loves.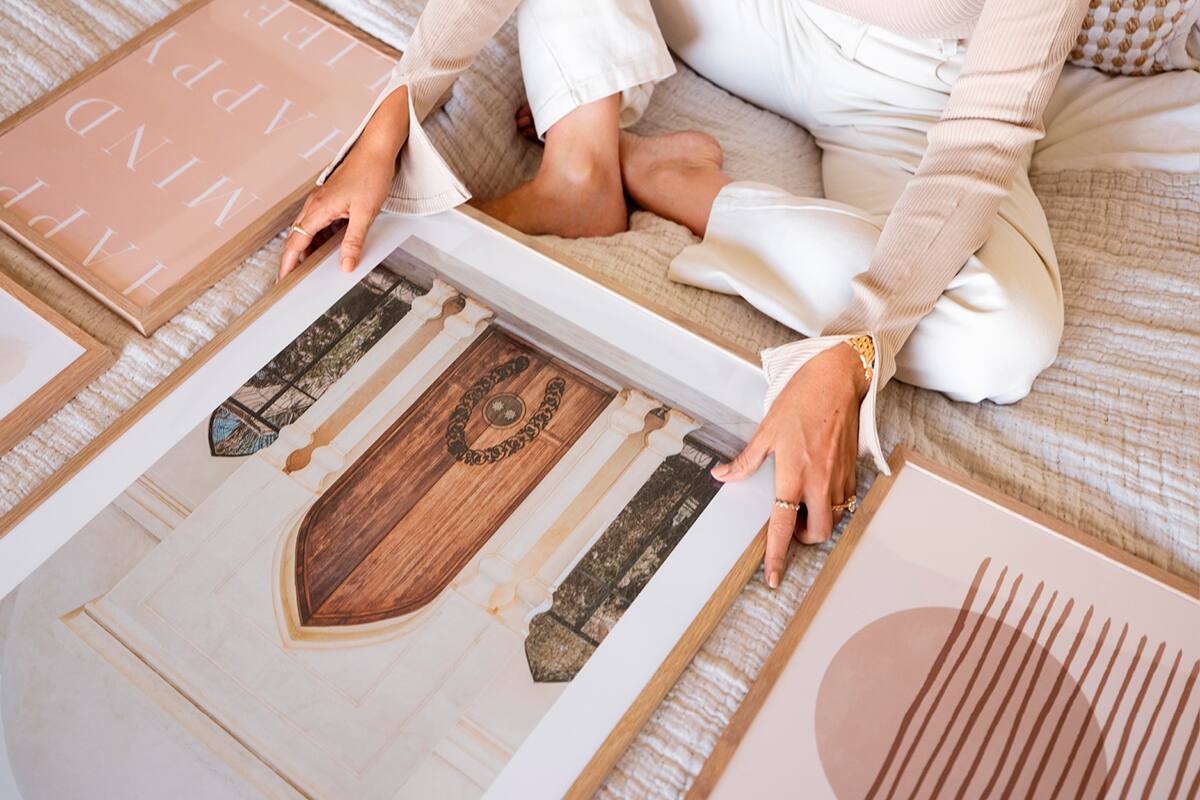 Why did you choose to partner with Desenio?
I've been working with Desenio for years now - since I moved to my first apartment, actually! They are the only prints I've ever really had - I don't need to look elsewhere because they have so much choice and they're such good quality. Once you've invested in the frames, it's so easy to switch up the prints when you want to get a new feel in your room. But the quality is so great too, so you can keep the same prints in place for years if you like. I just love everything about Desenio!
What can we expect to see in your new collection with Desenio - what vibe did you try to go for?
My collection is totally beachy, sunset vibes. It's summery but also cozy, something that you'd want to sit by after a long day at work or with a glass of wine with friends. I love sunsets, earthy tones, and a slightly bohemian feel, so the collection is typically me!
Can you tell us more about the process of working with the Desenio Design Studio on your collection?
I had a meeting with the Desenio Design Studio where I got a taste of all the options available. I saw lots of different mood boards and color schemes, and then I was able to give input on what kind of things I like. For example, I said what colors I liked, how I like to mix prints together, and what type of mood I want to create. Then we had a follow-up meeting where the Design Studio showed me all the amazing options they had created. In this meeting, I was able to make final touches, and choose which posters I wanted to see together. I think that we created such a nice mood - all of the posters look so good together on the wall, and they go perfectly together. Someone could effortlessly create a gallery wall with all of the prints, or they could just pick 1 or 2 that they like for feature pieces, and that would work too!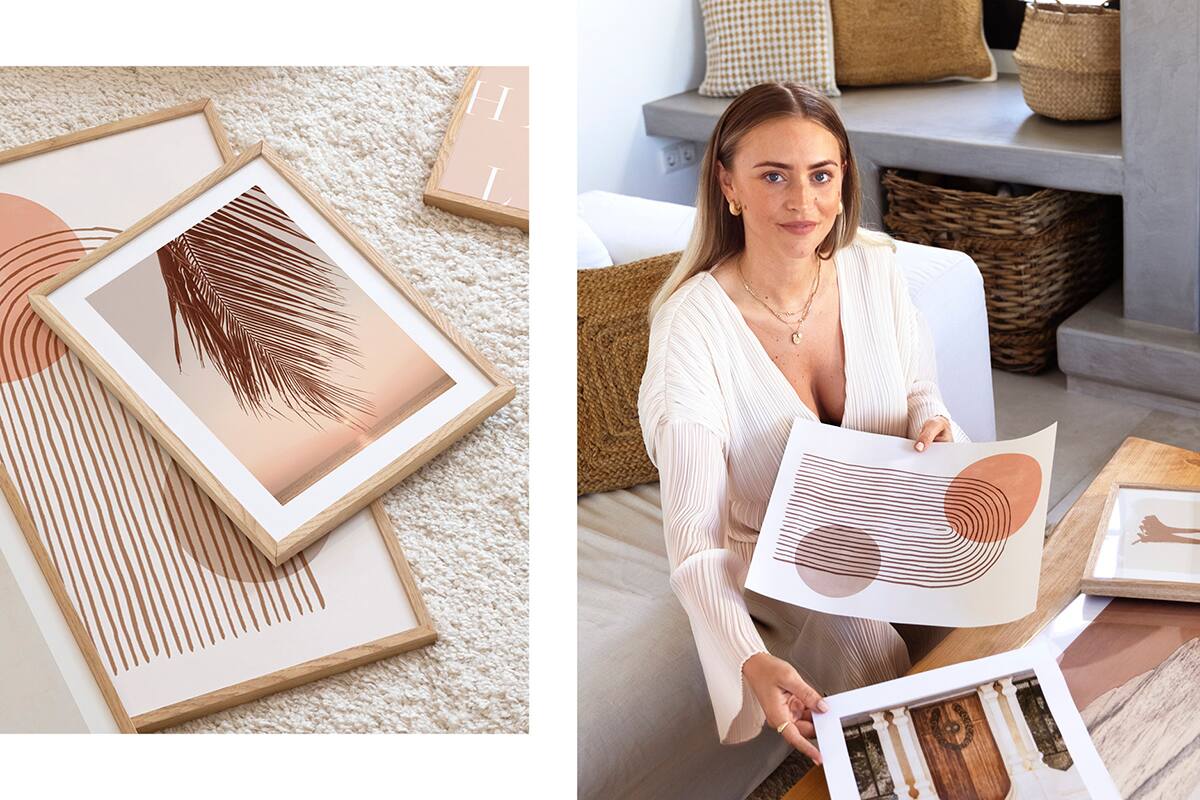 What kind of person did you have in mind for this collection when creating the prints?
I'm thinking about a stylish girl who's between 25 and 30, maybe. She has her own apartment or home where she just wants to be and just relax. She works hard in her career, and when she comes home she wants to de-stress and feel calm. So when she comes home and looks at her room with these prints, she will be like, "ok, nice, this is where I want to be!". That's the vibe I'm going for.
How do you plan to style the prints for your collection in your own home?
I plan to style the prints together with a lot of wood - white walls, wooden accents, and sunset combinations are the perfect mix, I think! I might also add some green palm trees or other details for a fresh look, we will see. I like to trust my intuition and go with what I see in the moment - when I have the prints in my hands, I'll want to play around with the arrangements and see what furniture works with it.
What is the most surprising thing about Desenio?
I always knew that the Desenio Design Studio was great, but I was still so surprised about how well they understood my taste and style. I told them what I liked, and so quickly they managed to create something that was exactly what I had in mind. I'm really excited to be working with Desenio on this project!