INTERVIEW
An interview with Monica Geuze
Introducing our official Dutch Ambassador for 2021, Monica Geuze!
Monica is a vlogger from The Netherlands who focuses on fashion, beauty, and lifestyle in her content. She is currently renovating and redecorating her beautiful new home. We sat down with Monica to get to know more about her style and her upcoming collection!
Congratulations on purchasing your new home! What are your plans for redecorating?
At the moment we're renovating, and in July we'll be moving in! Right now my interior plans are in chaos! I want every corner to have a different style, since I have a very eclectic taste. Every day I'm in another outfit or doing another makeup look - every day you meet a new Monica, another version of me, and I want all of my tastes in my home. So you can see why it's complicated!
But since I'm moving in with my boyfriend who is very calm, I know that I need to tone down my interior plans a little. So I've been making mood boards and gathering inspiration. I don't use an interior designer - I think it should be up to you to create a space that you love and that represents you. And if it doesn't turn out how you'd like, you can always switch things up, for example with Desenio prints!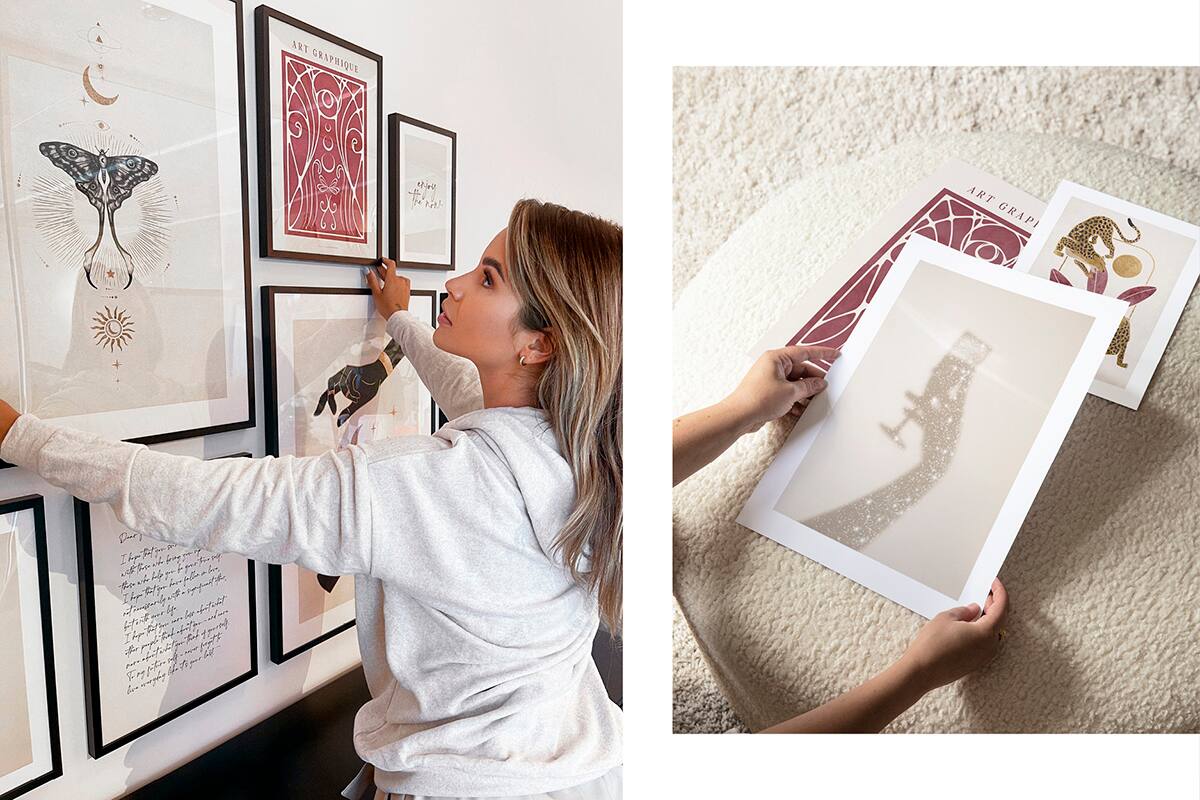 Which rooms are you most looking forward to redecorating?
I think I'm most looking forward to decorating the living room - I want everything to be super bright since there are high ceilings and a lot of natural light, so I think that it will be the most beautiful room. The dining room is also an exciting one, because there will be a huge table and there's so much that I want to do with it! We often have big groups coming for dinner, so I want to be able to move all of the decorations away and sit at the table.
I'm also really looking forward to decorating my daughter's room - it's the perfect opportunity to play around and design something that's really cute, but not necessarily my style. I think it's going to be very fun and challenging to decorate the bathrooms as well! I love it when homes have really luxurious bathrooms that feel like they belong in hotels. When you add candles, scents, and framed prints to a bathroom, it says a lot about the home.
Has the last year and your recent move changed your relationship with the idea of "home"?
Yes, definitely. I've noticed that myself and everyone I know has changed their definition of home. For example, a lot of my friends in relationships are now moving in with their partners, and my single friends are investing in new things for their homes. It's just more important to make your home somewhere you enjoy to be, instead of just a base where you shower and sleep. Everyone is starting to realize that it's important to feel at home in the place that you live.
We saw that you vamped up your office with Desenio prints! How do you think a nicely decorated office impacts your inspiration and productivity?
Yes, I think prints are a great way to improve your productivity, and I think it's really important to have a cozy office. To me it should feel like a second home, and even though we have desks and chairs, we also have couches and cozy corners.
I think that my office is a more girly version of my own style at home. Basically, if I was not moving in with my boyfriend, that would be how my home would look! But since I have to keep my home a bit more neutral, my office is my place where I can be a little more playful and experimental with the interiors. The Desenio posters that I'm using in my office are quite feminine, but I'm also using a lot of black and white prints, which I love in the office environment.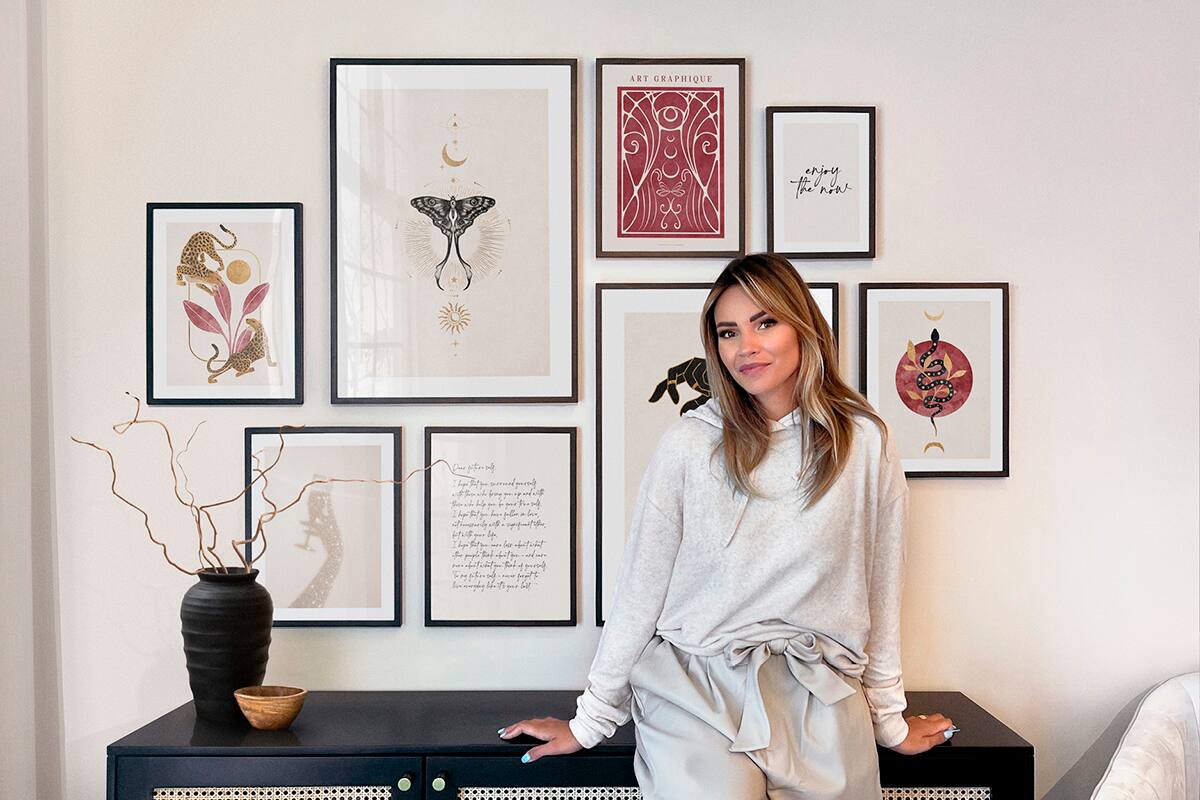 How would you define your interior style - would you say that it is comparable to your taste for fashion?
Both my fashion style and interior style are very eclectic. One day I'm in joggers, and the next day I'm in heels! Every day I dress the way I feel and this eclectic vibe is also present in my home. Every corner is different! I love to accessorize with jewelry and I also love home accessories. It's just sort of fascinating to look at what people are wearing and what it says about them. In the same way, I really like to observe the style of other people's homes and the details they add.
Let's talk about your Desenio collection! First off, can you tell us more about why you wanted to work with Desenio in particular?
The special thing about Desenio is that you go on the site thinking that you may or may not find something. But then when you start to explore, you see that there's something for every single person. When I'm browsing, I start to notice that I could like everything, depending on the mood that I'm in! For example, I'm not usually super interested in flowers, but when I see the whole flower collection, I think, "omg I love flowers"! And then when I see black and white, I imagine my whole home in monochrome! So Desenio makes me want to have about 6 extra rooms so that I can display everything that I like!
What was your experience working with the Desenio Design Studio?
I think that the design team at Desenio really get my style. We had a lot of consultations about our vision for the collection. I'm not always great at knowing what I like, but I know very well what I dislike, so it was really simple to point out everything that I did not want. From there, we created a mood board with all the styles that I wanted in my collection. I wanted to make sure that there was something for everyone, but I also wanted the collection to have a unifying concept, too. So we worked with the same color palette to ensure everything works together and that the prints could form a beautiful gallery wall or work on their own, too.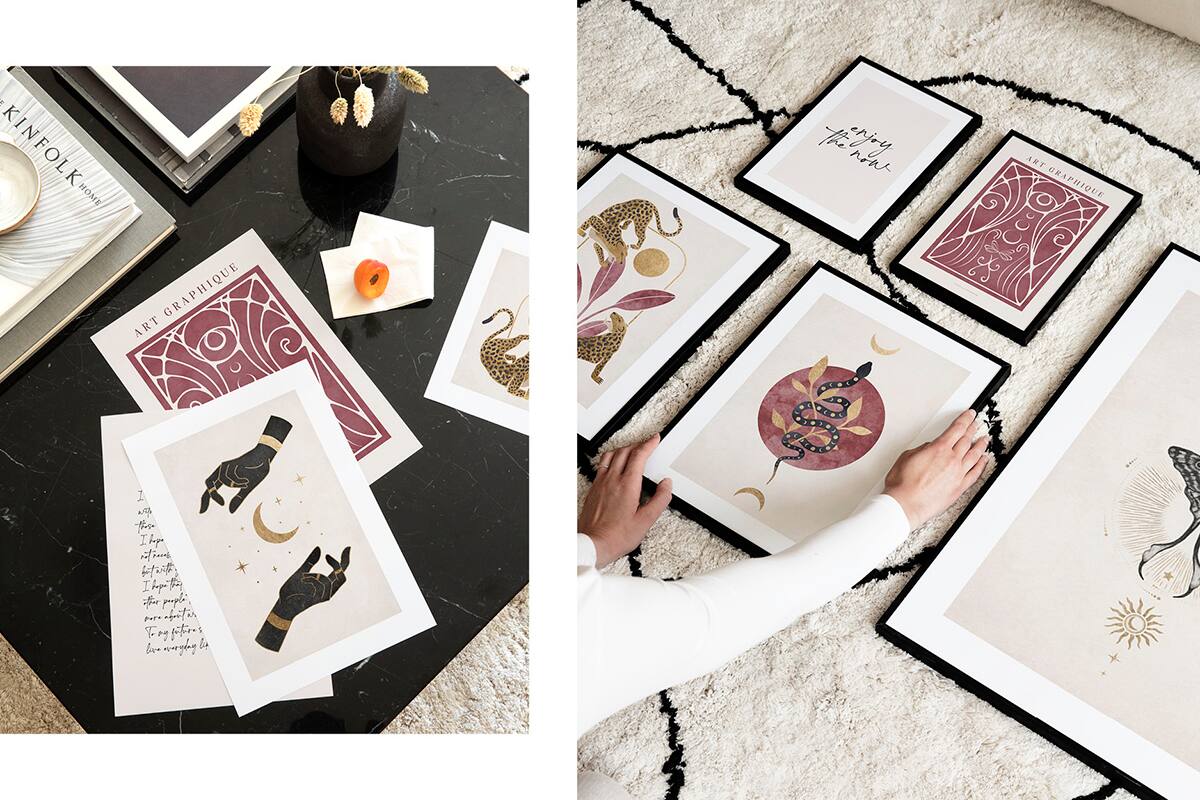 What vibe did you try to go for when creating the prints?
I'm going for that old Hollywood vibe. I can imagine seeing one of the posters in the bathroom with a nice scented candle to make it look really luxurious. I was trying to go for this vintage, edgy, feeling that I just adore so much! It's just so nice to look back at vintage design and see how beautiful they are. I designed this collection so that it could look great alongside vintage accessories or furniture.
What was the most inspiring thing about working with the Desenio Design Studio?
I am most surprised and inspired by the fact that Desenio has their own Design Studio! I always thought that it was so cool how Desenio have so many nice designs, but the fact that many of them are created in their own studio is amazing! I think that this is really cool and inspiring - to know that you are getting something unique from them.
What kind of person did you have in mind for this collection when creating the prints?
I think that there will be something for everybody - there will be quotes, but also illustrations and vintage poster looks. So I think it's hard not to find at least one poster you love, no matter who you are.
How do you plan to style the prints for your collection in your own home?
I can't wait to style them in my own home! I think that I will definitely put a few of them in the entrance, so it will be the first thing that people see when they enter! I'll also take the opportunity to give my office a makeover with my new collection, so that I can always feel inspired while I'm working.