INTERVIEW
An interview with Zoé Tondut
Introducing our official French Ambassador for 2021, Zoé Tondut!
Zoé is known for making social media content since the age of 13, and now at 20, she has a combined total of 3 million YouTube and Instagram subscribers. She's interested in design and DIY, and has recently bought her first apartment.
Zoé has worked with the Desenio Design Studio to create her own capsule collection of prints that represents her fun, playful, and quirky style. We sat down with Zoé to get to know more about her and her collection!
You are an inspiration for many when they search for interior inspiration! Do you have tips for how a teenager could decorate their bedroom on a tight budget?
Well, I do have a tip for what not to do! One thing I used to do was to focus too much on one theme or trend when decorating my room. I used to think it looked great, but now when I look back at pictures, I realize it was not such a good look! My advice is that instead, you should mix up what you like, but at the same time, keep it simple. For example, don't use too many colors - add a touch here or there but keep to a set color scheme where the colors match and don't become overpowering.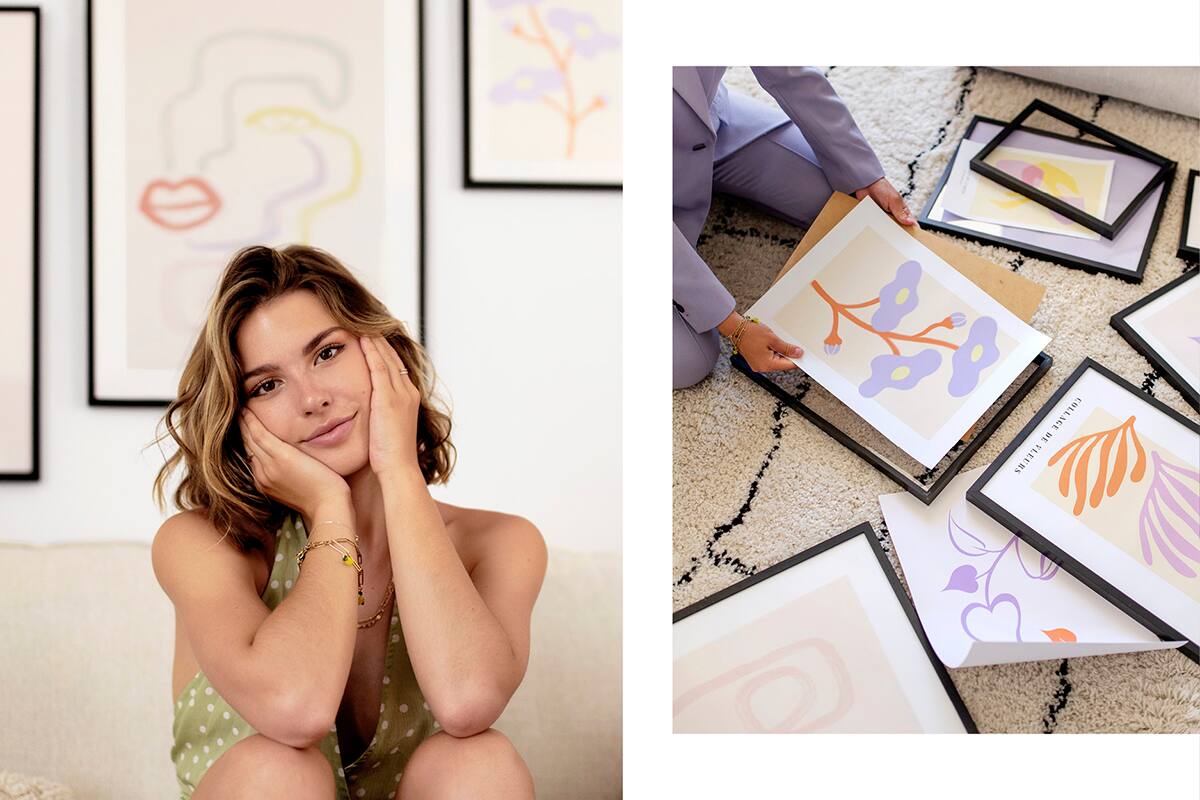 At what age did you become interested in interior design?
I think I've been interested in interior design since I was around 15 years old, so for about 5 years now. I started by buying posters and arranging them on my bedroom wall - it's an easy way to start. But now that I'm older, I like to do DIY projects to create unique decorations for my room, too.
How would you define your interior style?
I think that it changes all the time. During this past winter I loved beige and brown; all of the classic colors. But this summer I want to have more colorful and pastel colors - I like both. It depends on my mood!
Would you say that it is comparable to your taste for fashion?
Yes! I think that it is quite similar! Right now I am wearing a lilac blazer that matches perfectly with my collection for Desenio! Another example is that this winter I was always wearing beige and brown clothes and my interior was exactly the same, with lots of neutral shades. And now, for my collection, I like lilac and pink for my interiors, and my clothing is also in this color.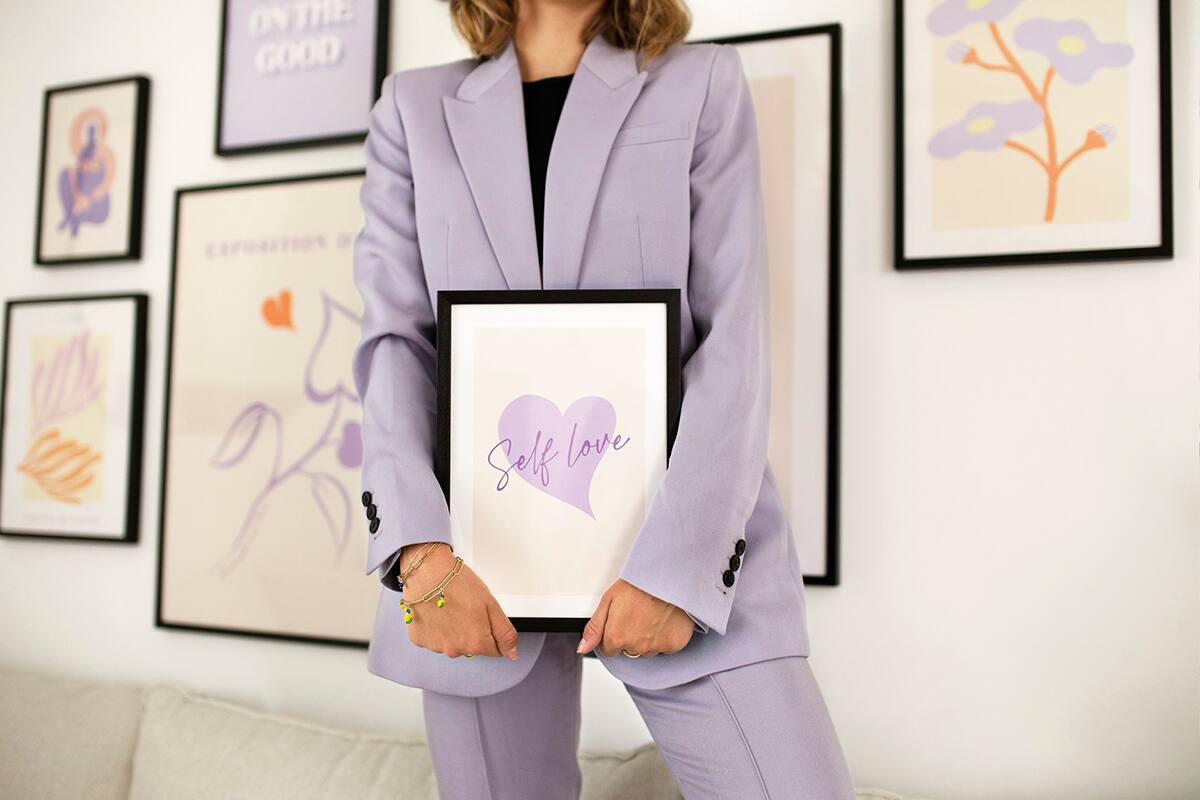 Let's talk more about your Desenio collection! First off, can you tell us more about why you wanted to work with Desenio in particular?
Well I have always loved Desenio, and I have loved Desenio for a long time and I have worked with them for several years now. I think that one of the best things about Desenio is that everyone can find what they like on the website - there are just so many posters to choose from! So I have always loved the brand, and when they asked me if I would like to create a collection with them, I was just so excited! I was like, "yesss!" I now have the opportunity to create something that is 100% me and really express myself. So I'm super, super happy!
How did you work with the Desenio Design Studio?
In the first virtual meeting, I was presented with different posters in beige themes or white or black, or colorful styles. When they showed me the ideas using more colors, I was like, I love it so much! But I wanted to do some tweaks to the end result so that it felt really "me". Over about two weeks, the Design Studio worked on my posters according to what I told them about the quotes I like and the designs I like. And after this, we met again on a video call and they showed me their work. Instantly I said that I loved it! We really connected with each other and they really understood what I wanted so well. So it was really easy and I am super glad that someone can understand what I have in my mind.
What vibe did you try to go for when creating your collection?
I was thinking of the summer! I always wear color when it's summertime, so I wanted to bring this through in my interiors too. As I mentioned before, I think it can be quite difficult to add colors to a room in a beautiful way, but I think these prints can help people to style their room for summer. We worked on putting together some colors that worked together and focused on making sure that the collection gives a very good ambiance and feeling. I get a really happy and summery feeling when I look at the prints, which is just what I wanted.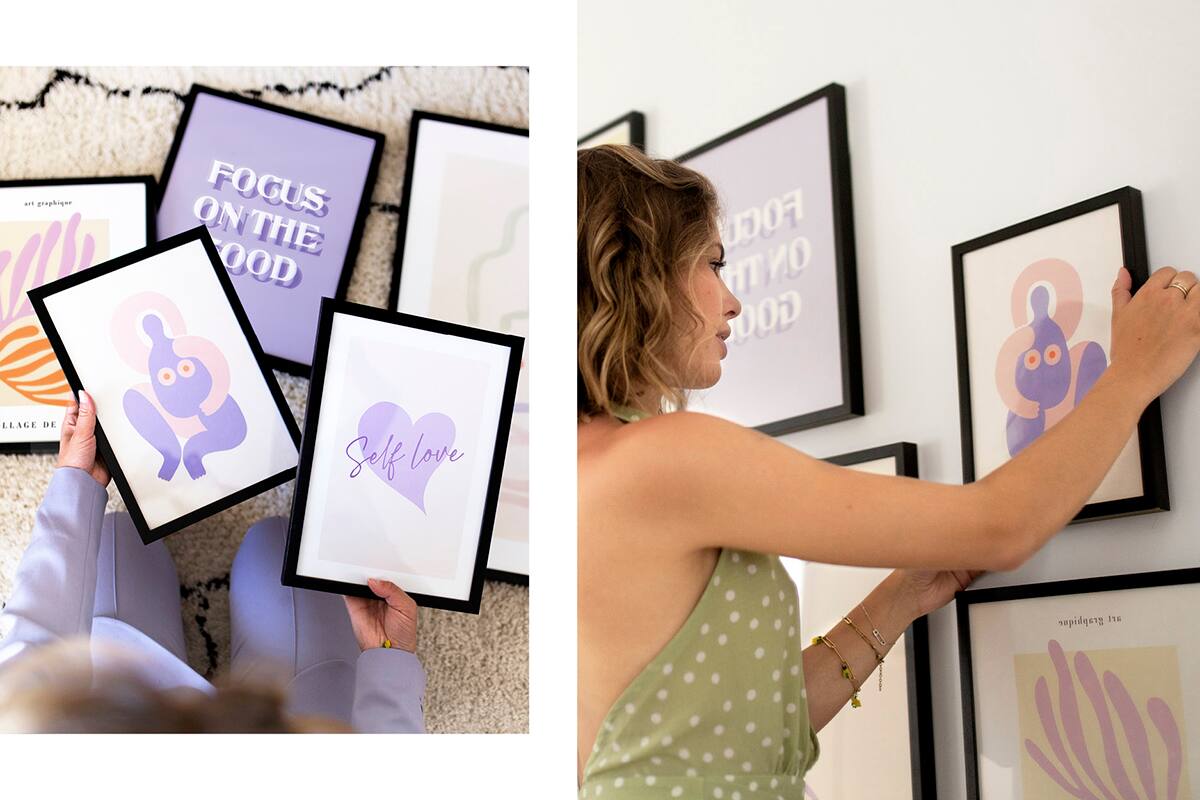 What kind of person did you have in mind for this collection when creating the prints?
I think that these prints can work for anyone no matter their age. For example, the look is not too young or not too old. But when I was designing the collection, I was imagining someone like me, say aged 18 to 25. Someone who is interested in the latest trends and who likes playing with their style.
How do you plan to style the prints for your collection in your own home?
First I will be styling them in my parent's house because that's where I am living now, but I also can't wait to style them in my own apartment soon! I think that I will paint the walls white to create the perfect background, and I would love to find some furniture to go with it, like a pink or blue sofa. I think the prints will work with very original and unique furnishings and decor. I really want to get creative and do a lot of DIY on the furniture in my new apartment with colorful things to match with my collection.