INTERVIEW
At home with That's Life Berlin - Sarah
Meet blogger and art director Sarah Zelasny. Her lifestyle blog That's Life Berlin is a window into Sarah's daily life in the German capital, in which she treats us to everything from fashion tips and recipes to her own DIY projects. In conjunction with Sarah and her husband building their own home, we took the opportunity to talk home decor - a subject close to Sarah's heart!
Hello Sarah! For those who don't already know you, please tell us a little about yourself.
I'm Sarah, an art director and blogger from Berlin. I love coffee, fashion, interior decor and design. Last year I married the man of my life, and now we are building our own house, so a large portion of my life is centered around that. This is by far the biggest project we've undertaken so far, and I'm excited to see the end result! Our dog Maya, an energetic little Jack Russell, is also with us on our journey.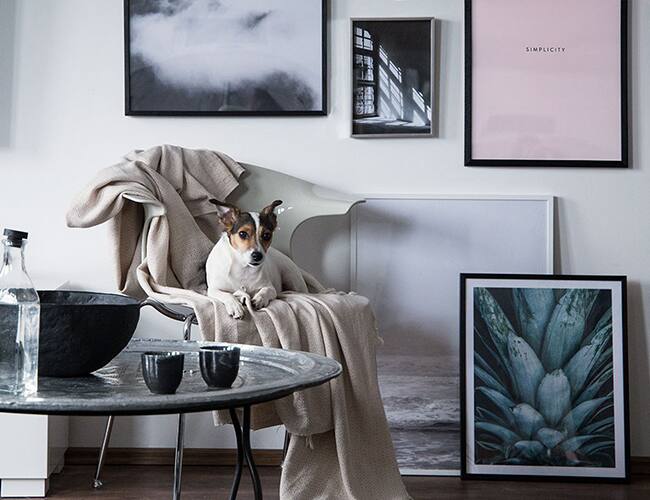 Photo: Sarah Zelasny / thatslifeberlin.com
How would you describe your blog?
I've been blogging since 2015. To me, That's Life Berlin is like a digital diary in which I document my life. My platform has grown since its inception, and, naturally, it's extra exciting that it also serves as inspiration for others!
You write a lot about interior decor - where do you get your inspiration?
Pinterest and Instagram are my foremost sources of inspiration, but I'm also influenced a lot by my fellow bloggers. Interior design stores are a favorite - both online and brick-and-mortar ones. I love window shopping!
How would you describe your design style?
That's a really good question! Right now our apartment is, to a large extent, a mix of both my own and my husband's stuff from pre-marriage. One of our friends once told us that our decor is completely lacking a common thread, haha. This will, however, change as soon as we move into our new house and get a fresh start. I love minimalism and the combination of warm and cold tones, as well as the contrast between light and dark. On the other hand, I'm also drawn to the mix of urban and industrial. I love the combination of wood, iron, and concrete materials. The blend of old and new, pared-down and cozy, are some of the keywords of my style. The easy answer to the question is probably that I am still working on defining my style by experimenting.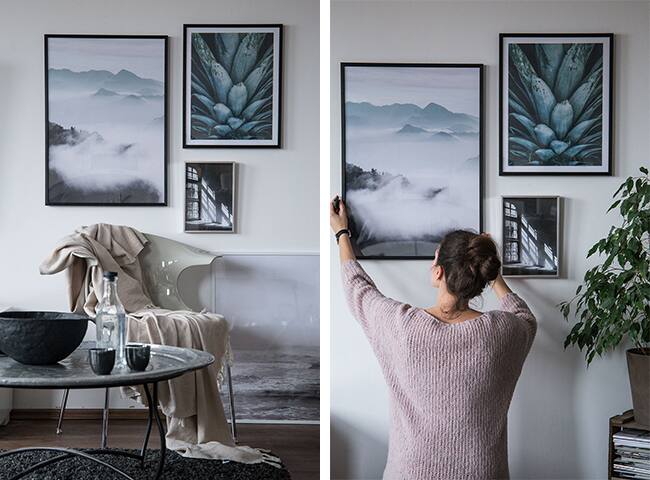 Photo: Sarah Zelasny / thatslifeberlin.com
What was your reasoning when choosing your posters from Desenio?
I picked posters based on what makes me feel calm. The three subjects in the photo - a pineapple crown, a window with light streaming in, and a mist clad forest give me a sense of harmony. I wanted something natural and relaxing, nothing that feels noisy or takes up too much attention.
Posters with quotes that you feel a personal connection with, or that elicit a certain feeling, are also nice to hang on your walls. It's a good idea to decide ahead of time where you want to hang your gallery wall, and what you want it to communicate - choosing posters becomes easier if you start with a theme, color, or a particular style.
What is your best tip when it comes to creating a more personal interior?
First and foremost - do what feels right for you! Don't design your home for someone else's benefit; the most important thing is that you feel at home. When it comes to elevating the trend factor, I believe in the classic less is more! If you're lucky enough to have airy rooms or large windows, you often don't need to do a whole lot of styling, since these are often gorgeous on their own. Wooden details make a room cozy, while concrete adds a sense of rawness. If you like color, just make sure you don't overdo it, and consider the design in its entirety.