INTERVIEW
Desenio Style Talks: Linda Juhola
We visited our Desenio Ambassador Linda Juhola in her Stockholm apartment for a chat about her latest style obsessions, why she never shuts her curtains and the reason she fell in love with her new home.


Influencer Linda Juhola embodies the word style in every way possible. From her flawless wardrobe to her modern home in central Stockholm, no detail is left untouched. Over the years, Linda has curated a look that is timeless and chic - with a splash of fun.
- My style is a mix of elegant and modern. I love neutrals! White, black, beige and gray are my staple colors that I always come back to. Marble and brass are some of my favorite materials, that marble cube in my bedroom... Oh, that's probably my favorite piece. It's so versatile and works as a side table or a pedestal... I'll have it forever.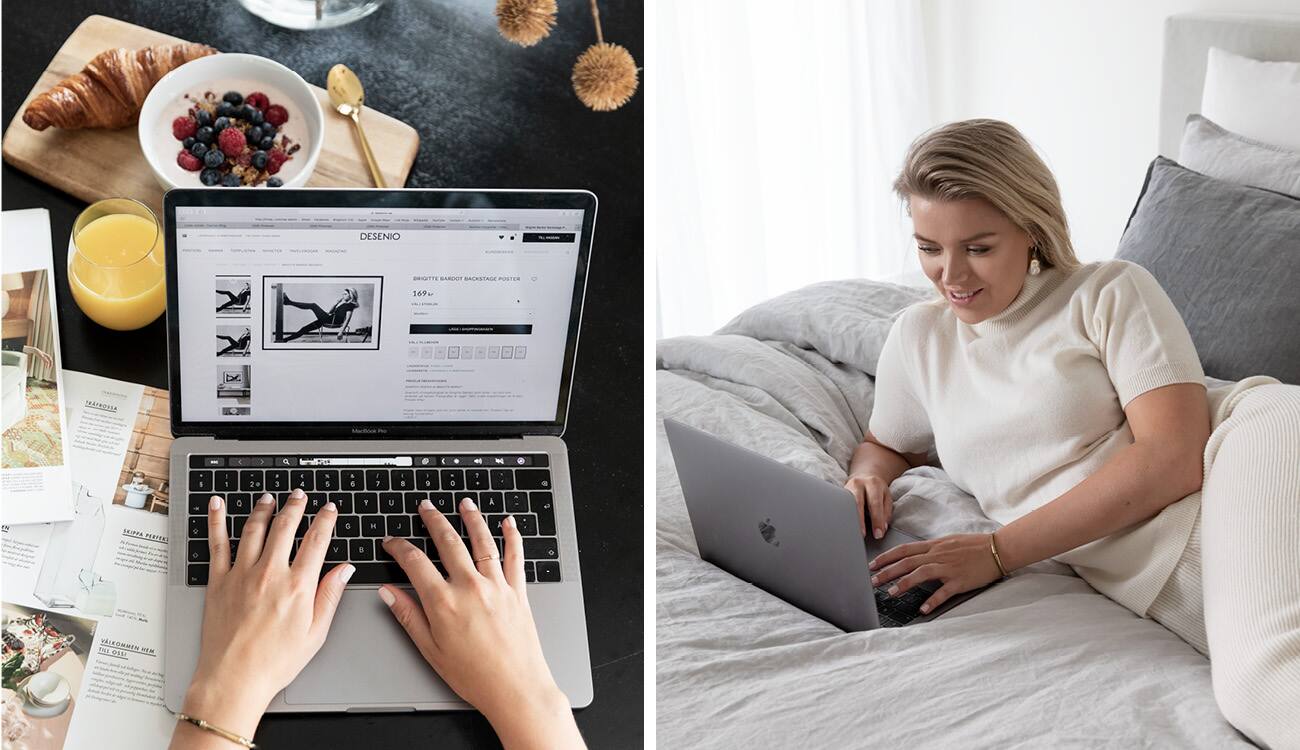 Linda is one of the original influencers, before it was even a job title, clocking in almost ten years as an online content creator. She started blogging in 2008 and since then has had success as a youtuber and podcast host. Earlier this year she became a Desenio Ambassador with a mission to teach her followers how to style their homes with beautiful wall art.

- I'm so happy taking on the role as an ambassador for Desenio, I always find designs I love and have a hard time choosing! I want the art in my home to be eye-catching, both the prints and the way the art is presented. I love experimenting with different ways of hanging wall art to create an interesting look. I just moved to a new flat so this collaboration couldn't have come at a better time, says Linda.
The new home Linda is referring to is her modern and minimalist flat situated in central Stockholm. Moving from a 1920's build Linda was excited to decorate a totally different kind of space.
- The first thing I fell in love with was how light it was. The view gives a New York vibe that I love. I also think the black windows add something special and interesting.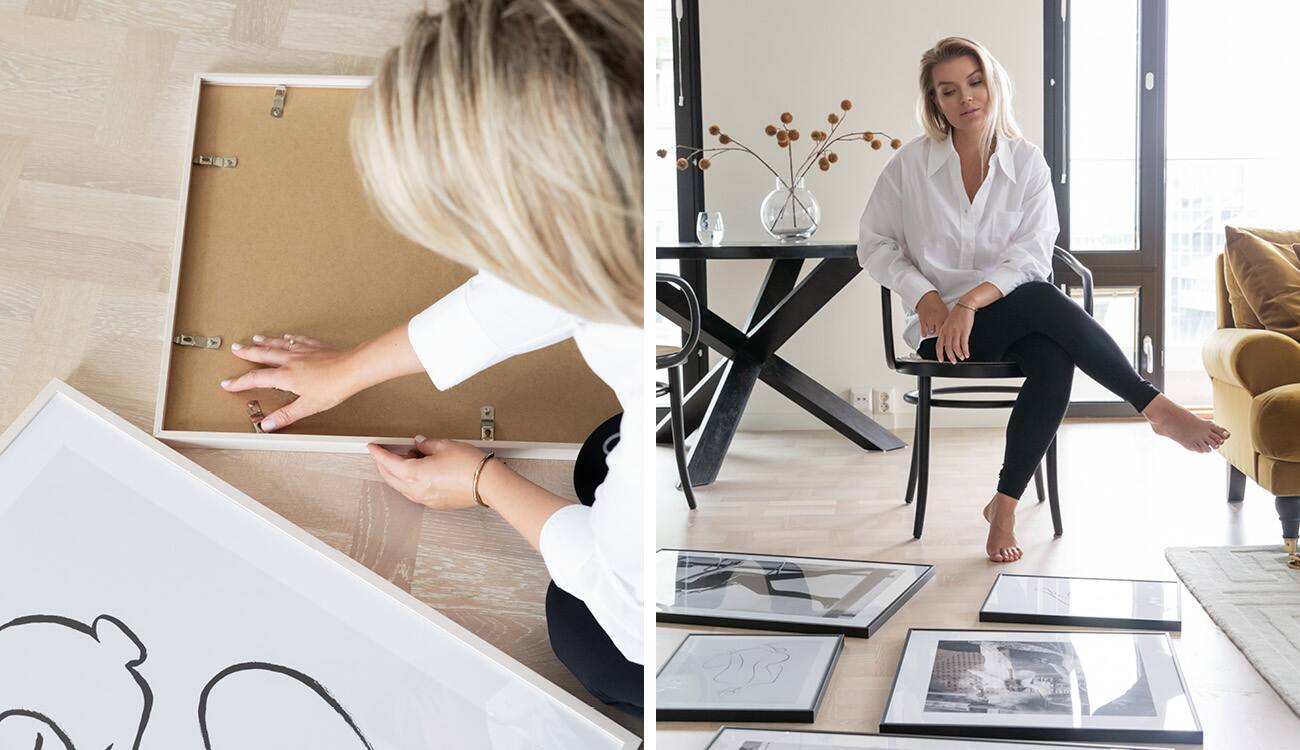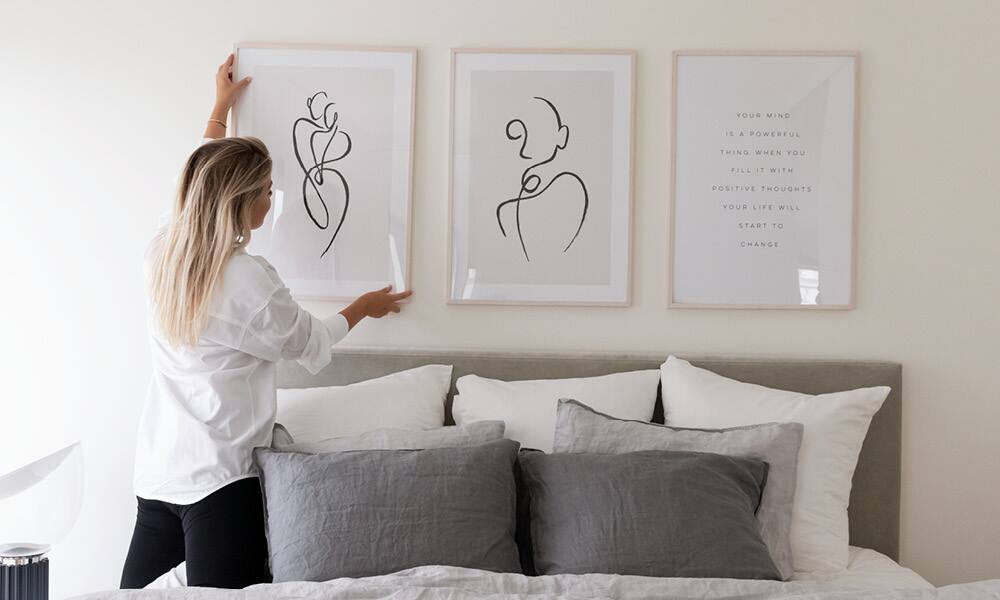 Moving to a more modern space, has your style changed?
- I guess it has! I feel like I can experiment more but I still love decorating with neutral colors. The sofa is my pop of color and I'm also really into animal prints at the moment.
Tell me about your walls!
- I love monochrome photo art. Prints that tell a story are my favorite. I also love line art of the female body, it's simple but stunning. Decorating your walls really makes a huge difference!
What's your favorite corner?
- My bedroom! I never close the curtains because I love waking up to the sun shining in. In my bedroom the vibe is calmer so I've chosen softer colours to make it a bit cosier.
Linda's best advice for creating a stylish space is to experiment with different colours and textures.
- Just sticking to one style can become a bit boring, don't be afraid to mix different styles and materials. Adding a pop of colour really gives a room something special.