Trends
Pink hues are here to stay
One of interior decor's absolute hottest colors this spring? Pink! Pink as an accent color is making an even bigger comeback this year, and we love that this gorgeous hue is taking up more room in the home.
Pink is an elegant color whose shades symbolize harmony and affection, to name a few. Decorating with pink is a sure winner - accessories in this hue create a welcoming and calming impression.
Looking to make an accent color work in your decor? Place focus on pillows, china, and, of course, prints on your wall, to create a chic and balanced look.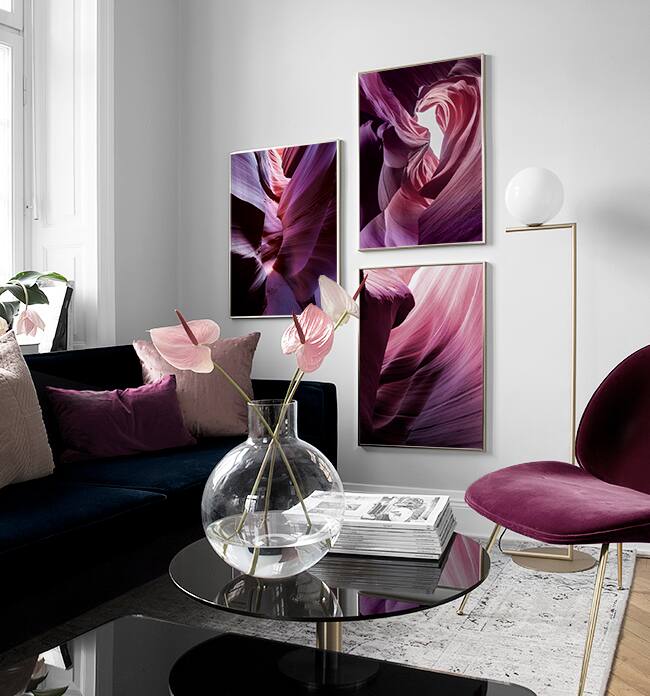 This year we are seeing every shade of the romantic, pink palette taking a prominent place in decor - everything from bold hues to cheery pastels. With its dreamy quality, often associated with positivity and calm, we are loving various shades of pink mixed together in our home decor. If you are ready to give more space to the pink hues in your home, then focusing on a complete piece of furniture or an entire wall is the way to go. How bold are you willing to be with the pink influences?
The feminine palette pairs beautifully with green details to create a lively impression. With this color combination, we also recommend going for attractive pillows, and, of course, green plants such as monstera, to infuse energy into an entire room.
We have a large selection of in-stock posters and designs in this color scheme right now. Combine with green motifs and black & white photo art to create a perfect match. See below for some of our most popular motifs: