Trends
THREE DESIGN TRENDS BY FORMEX
Looking for tips on how to decorate this fall and winter? Read about our style sightings at this year's interior design trade show at Formex, where we share three prevailing trends.
1. Body Positivity
Body positivity - a popular term in both fashion and interior design. The trend comes from a fascination with the body's appearance and diversity, as well as that of flowing shapes and soft materials. We see a departure from slender, generically molded shapes to something that is not afraid to take up space, spread out, and attract attention. In the home this translates to a piece of statement furniture, a vase in soft, flowing lines, or a couch with an 'overspill' effect. .
"Our homes are an extension of ourselves"
Materials such as wool, terracotta, memory foam, sheepskin, faux fur, and leather dominate. Influences come from various corners of the world, and points to how we are affected by the volatility of the world state. During times of uncertainty, we look for a safe haven in which to retreat, and allow ourselves to go back to the safety of who we truly are.


2.Dark and mystical luxury
During a time of year when we prefer to curl up in the comfort of our homes, we see the emergence of a muted, occult, and luxurious design trend. The raw and exclusive elegance that this theme brings with it works together in a dark and mystical combination.
"Black is the new black"
Black is experiencing a major rebirth in conjunction with the re-emergence of an elegant craftsmanship style harmonized with strict Nordic design. In interior decor, more weight is placed on cultural heritage and craftsmanship traditions. Geometric asymmetry in charred nuances, as well as esoteric elements in a color scale dominated by blackened and burnt hues is a source of inspiration. This trend is saturated with raw, natural materials, such as charred wood, powder coated metals, and untreated quartz. Also a common denominator is the focus on a holistic lifestyle, where we look at the whole picture rather than a few details.

Dark, mystical, but also luxurious elements are key features of this trend, with strong influences from a rich craftsmanship heritage seen in the choice of materials..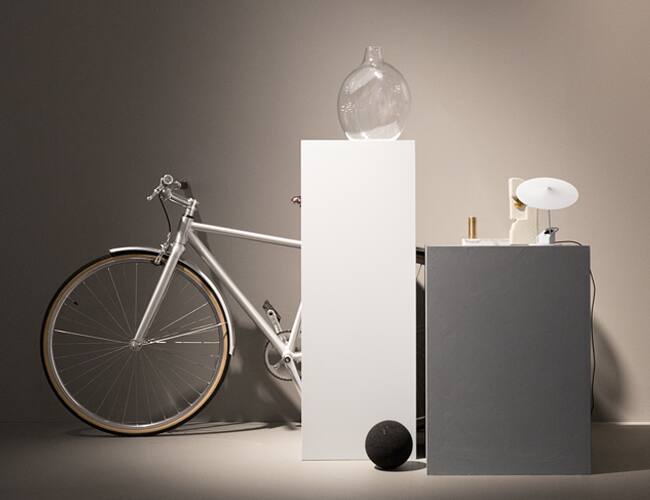 3. Recycling and resourcefulness
As an antidote to today's consumption excess and 'use and toss' culture, we are seeing the emergence of a more sustainable trend. A trend dominated by recycling and a 'use what you have' mentality.' Waste such as cork, e-waste materials, and denim is popping up in interior design, and new and creative ways are used in recycling and reusing old materials.
"Allow space for the imperfect"
Decor should feel unique and personal in an everyday, simple way, and we prefer to look for uniqueness at flea markets instead of spending money on designer goods.

The dominant materials are non-virgin - reclaimed materials that have been repurposed in new and exciting ways.